Monday, September 18, 2017
Antonio Fernandez
- Our Lady of Guadalupe Church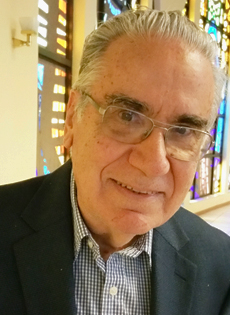 I am seated in my recliner in the den of my house, doing nothing at the moment.
I look out the window nearest to me, at the golf course behind our house, and I contemplate the calm, the sun, the blue sky, the swaying trees in the background. I think about yesterday and those anxious hours. What a difference!
I meditate on how little we appreciate the many months and even years when we are not threatened by a hurricane. And how, on the one hand, a few hours of threat, of insecurity, of danger, no matter how brief, cause us perturbation and make us lose control. And on the other hand, good times, peace, the brotherly handshake of a friend or neighbor, the caress or kiss of a family member or loved one, health, security: We take all those for granted, hardly noticing how many good things we have and enjoy most of the time.
When something bad comes our way, we pray, we do novenas, we engage in pious exercises. But when calm returns and the danger passes, we are incapable of even giving thanks for having overcome the trials.
May the good weather we enjoy today teach us to take advantage, to enjoy, but above all, to thank God for those imperceptible caresses He constantly gives us.