What Is The March For Life?
The March for Life is an annual pro-life rally protesting abortion, held in Washington D.C. on the anniversary of the January 22, 1973 U.S. Supreme Court decision in the Roe v. Wade case which legalized abortion for any reason throughout all nine months of pregnancy. The 2015 March for Life occurred on January 22, 2015. Organizers estimated 500,000 attendees. EWTN, the global Catholic television network, broadcasts live from the March for Life every year.
The Archdiocese of Miami organizes two trips to the March for Life each year. The Respect Life Office organizes a trip for our Catholic high school students, while the Office of Youth and Young Adult Ministry's group includes both young adults and high school-aged youth. The three-day itinerary includes attending the March for Life Mass and rally in Washington, D.C. the morning of the March, visits with elected officials (schedules permitting), a retreat, visit to the Holocaust Museum, private Mass celebrated by Fr. Manny Alvarez at the Basilica of the Immaculate Conception and a nighttime tour of the capitol and monuments.
Download the 2018 Pilgrimage flyer
Learn more about the March for Life
2018 Pilgrimage
January 18 - 20, 2018 at Washington, DC
The Archdiocese of Miami's Youth and Young Adult Pilgrimage to the National March for Life is open to all parish youth and young adult groups. Young adults can also join us, even if you are not part of a group.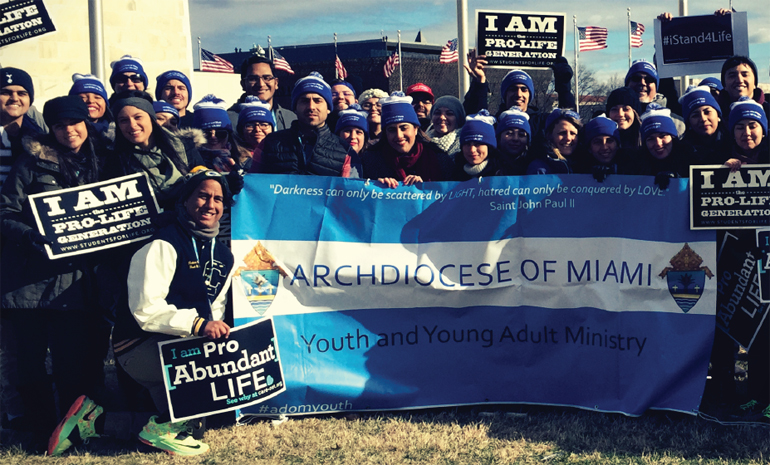 Itinerary
Thursday, January 18, 2018
Depart Miami
Attend Mass At Basilica Of The Immaculate Conception
Group Dinner
Friday, January 19, 2018
Attend Florida Pilgrims' Mass
Attend March For Life Rally At National Mall
Participate In March For Life
Visit Lawmakers At Capitol
Free Time
Group Retreat
Saturday, January 20, 2018
Attend Students For Life Conference
Depart Dc For Miami
Cost and Details
Quad Occupancy: $475 per person.
Double Occupancy: $580 per person.
$100 deposit due October 15th; final payment due December 1st.
Pilgrimage includes:
Two Nights Accommodation At DC Hotel
Round-Trip Airfare
Transportation To/From Airport In DC
$20 DC Metro Card
Breakfast Daily
One Group Dinner
Attendance At The Students For Life Conference
Travel Insurance
Commemorative Item