CONTACT INFO
Rosemarie Banich
305-762-1189
What Is The March For Life?
The March for Life is an annual pro-life rally protesting abortion, held in Washington D.C. on the anniversary of the January 22, 1973 U.S. Supreme Court decision in the Roe v. Wade case which legalized abortion for any reason throughout all nine months of pregnancy. The 2015 March for Life occurred on January 22, 2015. Organizers estimated 500,000 attendees. EWTN, the global Catholic television network, broadcasts live from the March for Life every year.
The Archdiocese of Miami organizes two trips to the March for Life each year. The Respect Life Office organizes a trip for our Catholic high school students, while the Office of Youth and Young Adult Ministry's group includes both young adults and high school-aged youth. The three-day itinerary includes attending the March for Life Mass and rally in Washington, D.C. the morning of the March, visits with elected officials (schedules permitting), a retreat, visit to the Holocaust Museum, private Mass celebrated by Fr. Manny Alvarez at the Basilica of the Immaculate Conception and a nighttime tour of the capitol and monuments.
Download the 2019 Pilgrimage flyer
Learn more about the March for Life
2019 Pilgrimage
Thursday, January 17, 2019 – Saturday January 19, 2019
Join the Archdiocese of Miami Office of Youth and Young Adults on a pilgrimage to the National March for Life 2019 in Washington, DC.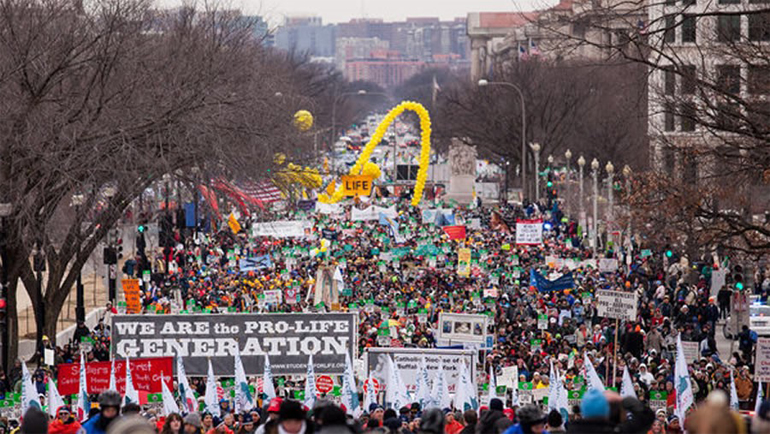 Pilgrimage includes:
Air fare
2 nights at hotel
Retreat led by Spiritual Director, Fr. Manny Alvarez Daily Mass
Daily Breakfast
One Group Dinner
Visit to the National Shrine of the Immaculate Conception with private Mass
Visit to National Holocaust Museum
Visit elected officials on Capitol Hill (if available)
Nighttime tour of Washington DC monuments (optional-additional cost)
Pilgrimage cost is $475 for quad occupancy/$580 for double occupancy.
All minors (under 18 years old) must be accompanied by a chaperone.
Initial deposit of $175 holds your spot and is due by October 31, 2018; Final payment due on December 1, 2018.