Nearly 800 volunteers from across the Archdiocese are engaged in the second phase of the Synod: the Focus Teams.
There are eighteen Focus Areas, which are particular areas of ministry which fall within the five "foundational ministries" of the Archdiocese:
Communion – Sacraments and Worship
Liturgy and Sacramental Life
Conversion – Education and Formation
Forming the Faith of our Youth and Young Adults
Forming the Faith of our Adults
Catholic Education
Stewardship – Governance and Finance
Parish Life and Stewardship
Task Force: Archdiocesan Pastoral Council
Task Force: Archdiocesan School Board
Task Force: Archdiocesan Finance Council
Task Force: Archbishop's Development Cabinet
Collaboration in the Keys
Solidarity – Social Services and Outreach
The Social Mission of the Church
Discipleship – Vocations and Evangelization
Lay Ministry
Marriage and Family Life
Youth Ministry
Campus Ministry
Young Adult Ministry
The Permanent Deaconate
The Priesthood and Vocations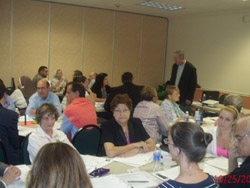 The Focus Teams began meeting in September, at locations throughout the Archdiocese, including the Pastoral Center in Miami Shores, the parishes of St. Rose of Lima, Our Lady of the Lakes, St. Augustine and St. Thomas the Apostle, as well as Barry University and St. Thomas University. Each Focus Team meets three times, and is charged with providing recommendation of priorities, goals and initiatives for the Archbishop to consider for the next three years.
As part of their work, the Focus Team members perform the following tasks:
Analyzing and gathering data
Identifying challenges and opportunities
Discerning goals
Developing approaches and requirements
Recommending and supporting the fruit of the Synod
The final work product of each Focus Team is a set of Goal Statements, which are the actions the Focus Team feels are most important to be taken in their particular area for the next three years. At the conclusion of the three Focus Team meetings, a small group of team members will work for two more months as a SMART Goal Drafting Team, converting the Goal Statements from the larger team into specific, measurable, attainable, relevant and trackable goals.