St. Matthew Trunk or Treat
Friday, Oct 29, 2021 from 6:00 PM to 9:00 PM - Bilingual (English and Spanish)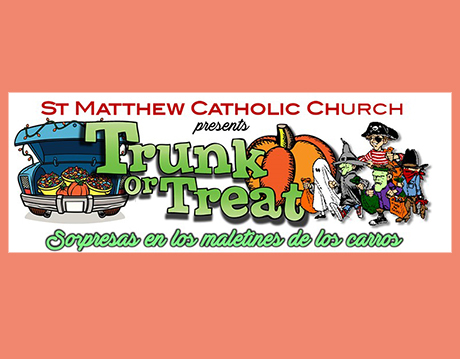 Friday, Oct. 29, from 6-9 p.m.
Wear your best costume.
Decorate your car and win prizes!
Family Fun.
Hot dogs, pizza and cotton candy.
No alcoholic beverages will be served.
A little bit about how this works ...
Come help our little ones celebrate Halloween in a safe and wholesome environment! Adults decorate their vehicles and hand out candies as the littles ones go from car to car to get their treats. It is a fun night for the whole family! There will be food for sale, games for the kids, best costume contest, best trunk contest and raffles.
Trunk or Treat is hosted by St. Matthew Emmaus Experience but anyone can be part of it.
For more information or to reserve a parking space for your decorated car, call 954-458-1590 between 9 a.m.-3 p.m.
Viernes 29 de octubre de 6 a 9 p.m.
Ponte tu mejor disfraz.
Decora el carro y gana premios.
Diversión para la familia.
Perros calientes, pizza y algodón de azucar.
No serviremos bebidas alcoholicas.
Un poquito sobre como funciona el evento...
Ayuda a nuestros pequeñitos celebrar Halloween en un ambiente sano y divertido! Los adultos decoran los vehículos y los jóvenes caminan de carro a carro recibiendo caramelos. ¡Es una noche divertida para toda la familia! Habrá comida a la venta, juegos, concurso para el major disfraz, premio para la major decoración y rifas.
Trunk or Treat está auspiciado por St. Matthew Emmaus Experience pero todos están invitados a participar.
Para más información o para reservar un espacio para su auto decorado, llame al 954-458-1590 entre 9 a.m. y 3 p.m.
Location
St. Matthew Church
542 Blue Heron Drive, Hallandale Beach, FL 33009 (Map)
Contact Information
954-458-1590