On the Doctrine of the Modernists by Pope St. Pius X
Tuesday, May 25, 2021 from 8:00 PM to 9:30 PM - English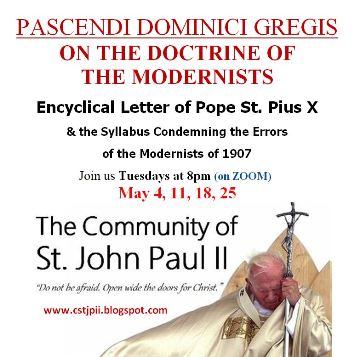 Please join us, the Community of St. John Paul II, during the month of May in our reading and reflections on the 1907 Encyclical of Pope St. Pius X:
Pascendi Dominici Gregis: On the Doctrine of the Modernists
and
Syllabus Condemning the Errors of the Modernists
Tuesdays: May 4, 11, 18, 25 at 8 p.m. (on ZOOM)
Please contact us at [email protected] for the link to join on ZOOM.
For more information, see www.cstjpii.blogspot.com.
Blessings.
Location
Good Shepherd Church
14187 SW 72nd Street, Miami, FL 33183 (Map)
Contact Information
The Community of St. John Paul II
305-772-4951