Camino del Matrimonio July 16-17 English - in person - not virtual
Jul 16, 2022 & Jul 17, 2022 - from 8:00 AM to 5:00 PM - English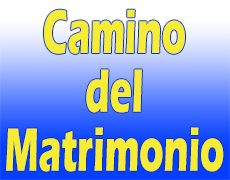 Camino is a marriage preparation program offered by the Archdiocese of Miami for couples that will be celebrating the Sacrament of Holy Matrimony in the Catholic Church.
The program is offered on weekends and it is an opportunity to reflect upon your relationship through the dialog of talks that most affect the success of a marriage.
Camino is also a ministry of sacramental preparation following the methods of Pope John Paul II on Theology of the Body.
In Jesus we find the values, criteria, attitudes & priorities the make it possible for true love which all Christian marriages are call to do.
You can register online at www.caminodelmatrimonio.org
Location
Monsignor Edward Pace HS
Spartan Hall Auditorium 15600 NW 32nd Avenue, Miami, FL 33054 (Map)