Camino del Matrimonio August 22-23 English pre-marriage retreat
Aug 22, 2020 & Aug 23, 2020 - from 8:00 AM to 5:00 PM - English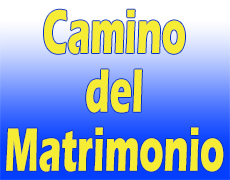 Camino is a Catholic Marriage Preparation Program offered by the Archdiocese of Miami for couple preparing to receive the sacrament of Holy Matrimony.
Thousands of couples have attended our two day (weekend) retreat during the last 47 years.
This weekend experience helps couples have a happier and healthier marriage both practically and spiritually.
Speakers give presentations related to ways couples can improve their marriage.
Camino is offered every month at (SEPI) Southeast Pastoral Institute. But it will be conducted online as long as in-person events are postponed due to COVID-19.
All are invited to participate, cost is $125 per couple.
To register please click here at www.caminodelmatrimonio.org , then select a date for your class and pay online.
The cost is $125 per couple and this includes your lunches snacks and workbooks for both days.
As an added bonus, parents, in-laws, family members and friends are invited on Sunday at 2pm (for FREE) for a special presentation on how they can also help in your marriage. (the is held on the same weekend, same address and same building)
Show more >>
Recommended time to take this retreat is 6-8 months before the wedding, this way you can learn and practice these new technics before your wedding.
If you wait to long to signup for this retreat, you may run the risk of this retreat being full. Getting prepared in advance gives you time to enjoy this beautiful preparation process.
Also, if you present your Camino del Matrimonio completion certificate at the courthouse, you will receive a discount on your civil marriage certificate.
Location
SEPI - Southeast Pastoral Institute
Large study hall 7700 Southwest 56th Street, Miami, FL 33155 (Map)
Contact Information
Dwayne Clein
305-226-4664