Divini Redemptoris: Pope Pius XI on atheistic communism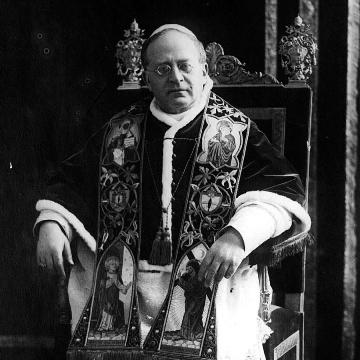 In 1937, Pope Pius XI published his encyclical Divini Redemptoris, On Atheistic Communism, to address one of the greatest threats to humanity, social stability and Christian civilization. The letter provides an excellent overview of Marxism-Communism.
It highlights its errors and brutal execution as the antithesis of our Catholic Faith and Natural Law that aims to subvert not just the economy and class relations, but also the bedrock institutions of the family, Church, state and all aspects of culture, by denying the dignity and rights of the individual person and his supernatural and eternal destiny as the Image of God with its materialistic conception of the world that puts the "collective" above all else, even over the rights of God and Man. As Pope Pius XI observed, to the destruction of all that is good, true and noble for the true flourishing of human society and faith.
Please join us online Tuesdays, May 5 & 19, June 2 & 16 at 7:45 p.m., (with ZOOM) for our new series of readings and discussions on Divini Redemptoristhe Encyclical Letter by Pope Pius XI on Atheistic Communism of 1937.
If you wish to join us online with ZOOM, please call (305)772-4951 for more information and to get the link.
Location
Good Shepherd Church
ZOOM video conference 14187 SW 72nd Street, Miami, FL 33183 (Map)
Contact Information
305-772-4951