Monday, May 1, 2017
Rogelio Zelada
- Office of Lay Ministry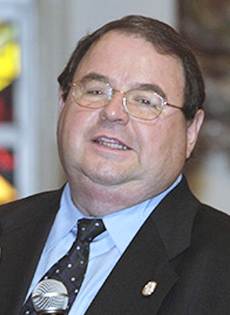 Catherine the Great has come to The Hague to visit King William V and Prince Dimitri Alekseyevich Gallitzin, her ambassador plenipotentiary and a great friend of the imperial family. The prince's wife has borne him an heir, a beautiful and restless child who has just turned two, and whom the czarina, graciously and solemnly, has appointed officer of her personal guard.
As a member of the old Russian nobility, little Dimitri was baptized in the Orthodox Church, although his family did not place much value in religious practice. His mother, Countess Amelie, was Catholic but of little or no practice. He converted to the Catholic faith when he turned 17. For the young aristocrat, to be formally received into the Roman Church meant a phase of transformation, and to celebrate it he added to his name that of St. Augustine, the great convert of Hippo: He will be called Demetrius Augustine.
When he completed his education, his parents decided that he should know the world, but France was in turmoil with the revolution and Europe had become unsafe, so they decided to send him to America.
Demetrius' mother obtained letters of introduction from German bishops, addressed to Bishop John Carroll, of Baltimore. On August 18, 1792, Prince Demetrius embarked from Rotterdam along with his tutor, Father Brosius. They landed at Baltimore on October 28 of the same year.
It was inconvenient to travel as a Russian aristocrat, so he concealed his origin and changed his name to Augustine Smith.
The letters did not impress Bishop Carroll; nevertheless, he invited him to stay at the newly founded St. Mary's Seminary in Baltimore. His stay there, and the missionary scene he witnessed, gave rise to a firm priestly vocation in young Dimitri. He accompanied Bishop Carroll on his pastoral visits and discovered the harsh reality of the faithful of the diocese. Finally, Dimitri entered the seminary and was ordained a priest at the Cathedral of Baltimore on March 18, 1795. He was the first to receive tonsure and minor and major orders in the territory formed by the 13 original colonies.
It was not easy for him to adjust to the challenges of his ministry. He had little practical sense and few ideas about administration, but he also had a deep humility, a strong apostolic zeal and the capacity for generous dedication. Assigned to the mission of Port Tobacco in Maryland, he extended his apostolate to Conewago, Taneytown, Martinsburg and Chambersburg, located in Maryland, Virginia and Pennsylvania — places very distant from each other, which made communication difficult.
While at Port Tobacco, he received a letter from a Protestant woman who was very ill, and who lived a great distance from the mission. Father Gallitzin took to the road to welcome her into Mother Church, and to comfort her with the sacraments. The place was at the foot of the Allegheny mountains, and Father Gallitzin decided to found a Catholic mission there. He received permission from Bishop Carroll to build a small church and a cabin, using wood from the tall pines that dotted the virgin mountainside.
Enthusiastic, he wrote to the bishop in February 1800: "On the night before Christmas, we were able to finish our church, which we began to build at the end of the harvest... It was built with white pine logs and has a very solid tile roof. We also made a clergy house with a small kitchen and a stable."
His effort transformed the area into a conglomerate of fertile farms. For this he bought land and sold it to the settlers at a very low price, using all the remittances that came from Germany and large loans based on his future great inheritance. He built mills, sawmills, tanneries and industries, sources of work for the settlers.
The heavy debt he contracted could not be canceled as he had expected. Because of his conversion to Catholicism and his priestly ordination, he was disowned from his share of the paternal and maternal inheritance, which as a family solution was transferred to his sister. However, the German aristocrat whom she had married dissipated the immense fortune in a short time. The prince became a beggar and had to appeal to charity to pay off the debts. Help came from Europe, minimal and slow; he received donations from Cardinal Cappellari, the future Gregory XVI, and a large loan from the Russian ambassador, who used the promissory note to light his cigar. Irish workers also helped pay off the debt shortly before Father Gallitzin's death.
Those were times of loneliness and deprivation, when he received insults and slander from those he had sought to help.
Father Gallitzin named the settlement by the Allegheny mountains "Loretto," in honor of Mary. There he served his parishioners for 40 years, without receiving any salary. He provided for himself and many orphans, and shared with the poor the fruits of his farm. He had time for apologetics and was the first theologian in the United States to stand up to the challenges that the Church received from other confessions. He wrote and published several editions of "Defense of Catholic Principles," "A Letter on the Sacred Scriptures" and "An Appeal to the Protestant Public." He refused several attempts to elevate him to the episcopacy and worked until he died, as poor as he had lived, on Good Friday, May 6, 1840. Word of his holiness spread quickly.
The Servant of God Demetrius Gallitzin, the prince turned into a beggar for God, left us his life as an obedient, working, humble, creative, simple parish priest always at the service of the poorest, in the most difficult conditions, oblivious to praise, calumnies or insults from the ungrateful. Today the American Church presents him to us as a model evangelizer. This prince, born amid luxury, gave up his life of privilege to serve the poor first Catholic immigrants in the United States. Because of his inspiring and exemplary life, the Diocese of Altoona-Johnstown initiated his cause of canonization on June 6, 2005
.