Monday, February 10, 2020
Ana Rodriguez Soto
- Florida Catholic newspaper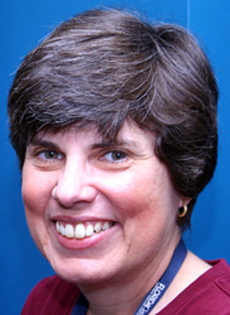 I have worked for the Archdiocese of Miami for nearly 40 years now, as a reporter and editor of the Florida Catholic newspaper. And every so often, I think: Wow, so many people don't know what the Church does; how the Church cares for people.
In my experience, most Catholics connect to the Church in two ways: through their experience in their local parish and with their parish priests; and through news about the pope and the Vatican. So Church is down here, local; and Church is out there, global. Not too many people get to see and appreciate the all-important middle: what their local bishop and local diocese do.
But that is a huge part of the work of the Church everywhere. And because of what I do, I get to see that work every day; and not just one aspect of it, but the work as a whole.
I understand that before you give to any organization, you want to know where your money is going. I do too. None of us wants to give and have the money wind up in a "black hole" so to speak. We want to know that it's doing some good.
So I'm here to tell you, from what I have seen and heard and reported on for the last 40 years, ABCD — the Archbishop's Charities and Development drive, going on right now — is not a black hole. I see where your money is going. I know how much good it's doing.
I see what our Catholic schools are doing. My reporters and I interview the students who might not have gotten a Catholic education were it not for the money raised by ABCD to support Catholic schools and Catholic scholarships at those schools. One of them, Tracey Dominique, you saw in this year's video.
I get to see what our Catholic Charities are doing to help the homeless, especially homeless women and children, and the workers who can't afford housing in the Florida Keys.
I see how our Office of Marriage and Family Life is helping young couples prepare for marriage. I see the programs being put on by our Office of Youth and Young Adult Ministry, including monthly meetings for Catholic young professionals, to keep them involved and engaged with their faith.
I see how our Respect Life Office, and its emergency pregnancy centers, not only help women in crisis pregnancies, they teach these new mothers — and fathers — how to become responsible parents.
I cover the conferences put on by our Office of Catechesis, the training they provide to all the volunteers who teach religion to children who attend public schools. I see how our Office of Worship trains extraordinary ministers of holy Communion — and that training is free, because of your generosity.
I hear the stories of the men who are ordained priests every year. You help pay for their education. Without a priest there is no Catholic Mass. And I can tell you not every diocese has an ordination every year. Here in Miami we have had an ordination every year but one, that I can remember.
I can tell you, first-hand, that the Archdiocese of Miami does tremendous work —and a tremendous amount of work — in our community.
And the reason that I can tell you is because ABCD also helps to support the work of evangelization, which includes the work of the Communications Office and the archdiocesan newspapers, La Voz Católica and the Florida Catholic, and of our radio station, Radio Paz. Both newspapers are distributed free once a month in every parish so you can keep tabs on the work being done by that middle level of Church — the archbishop and all the other Catholics in South Florida.
We have this website, too, where we post even more stories than appear in the newspapers. And a few months ago, we started two podcasts: What the Faith, Miami? in English, and Cuéntame Católico in Spanish. We felt that's what young people are listening to, so that's where the Church needs to be.
If you want to find out where your ABCD money is going, a once-a-year ABCD video simply doesn't do it justice. And even though this is a bald-faced plug — February is Catholic Press Month — I invite you to pick up the newspaper each month at your church; to subscribe to our free weekly newsletter, which we'll send you via email; and to follow us on social media. (Check out the top and bottom of our homepage for links to all of these.)
All that, too, is because of you, and because of your generosity to ABCD. So don't be afraid to give. And don't overlook everything your archdiocese is doing. We truly are the eyes, the hands and the feet of Jesus here in South Florida.