Monday, October 5, 2020
Antonio Fernandez
- Our Lady of Guadalupe Church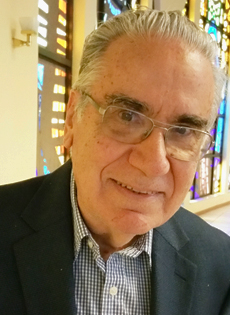 After reading Archbishop Thomas Wenski's recent column in the Florida Catholic and La Voz Católica, and later seeing some of the readers' comments, I was struck by the fact that some of them referenced or presented ideas and points that I could not connect with what the archbishop had written.
I have read several times what he wrote and I want to say that nowhere did I find support for one candidate or another. I find these words of the archbishop very clear and precise: "(O)ur Church ... does not tell the faithful to vote for any candidate or party."
Likewise, in the face of an almost exclusive focus by some readers on the crime of abortion, the archbishop reaffirms that "the Church engages in a wide variety of public policy issues including the defense of unborn life, of religious liberty and of marriage as a union of one man and one woman, as well as advocacy on issues concerning immigration, education, poverty and racism, along with many others."
The archbishop reminds us that the Church "offers a specific moral framework that should guide the voter in making prudential decisions" about who are the best and who are the "least" worse candidates. He adds that this moral framework, anchored in Scripture and the teachings of the Church, should guide us in examining candidates across a wide range of issues, as well as in their personal integrity, philosophy, and performance.
There are a few words in the archbishop's commentary that in my opinion have been ignored by some: "We need a new kind of politics — one focused on moral principles, not on polls; on the needs of the vulnerable, not the contributions of the powerful; and on the pursuit of the common good, not the demands of special interests."
This is an essential point and we should not ignore this much-needed advice in today's confusing political environment.
In a way, the archbishop "pulls our ears" by telling us that "too few citizens hold elected officials accountable by exercising their right to vote." And a little later he reminds us of our responsibility to "defend human life and human dignity whenever they are threatened. A priority for the poor, the protection of family life, the pursuit of justice and the promotion of peace are fundamental priorities of the Catholic moral tradition which cannot be ignored or neglected."
In this, the archbishop is simply consistent with his longstanding concern and care for the neediest in our communities.
Finally, I would also like to mention that the archbishop clarifies for us a question that many ask and apparently, some have not yet assimilated, since the subject is still burning in the spotlight. He reminds us that "no Catholic should vote for a political program or law with the intent of contradicting the fundamental principles of our faith. A voter who would vote for a candidate precisely because he or she was pro-abortion would certainly be guilty of sin — objectively speaking. Someone may arrive at a prudential decision to vote for a candidate for other reasons..." and this would not be contrary to Church teaching.
Along the same line, I think it is necessary to point out that, in our current political reality, one of the two candidates, although personally not approving of abortion, in his public role is opposed to making it illegal; and the other has restored the death penalty as a punishment for certain crimes. Voting for a candidate because he or she supports either abortion or the death penalty would be contrary to Church teaching.
It only remains for me to thank the archbishop for his much-needed words at a time when, as he so well describes, "The stridency and polarization of politics in America today can be discouraging."