Monday, November 14, 2011
Msgr. Franklyn Casale
- St. Thomas University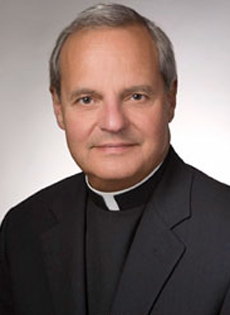 It seems like yesterday when a group of Augustinians founded Miami's Biscayne College. The all-men prep school, rooted in Havana's Universidad de Villanueva, started preparing graduates for leadership in the Catholic tradition and for the workplace. Decades later, it became co-ed and affiliated itself with the Archdiocese of Miami.
Ever since we officially launched our 50th anniversary commemorative events in September with the annual
Mass of the Holy Spirit and the dedication of our new Jubilee Tower
, students, faculty, alumni, staff and other members of the St. Thomas University community have been anticipating the Grand Homecoming Bash during this month of November.
The St. Thomas vs. Barry men's basketball game, Fiesta Villanova – which gathers the STU community outdoors with family and friends – and the third annual Stone Crab Dinner for St. Thomas University Athletics were just a few of the exciting events that showed our pride to be part of our Catholic institution.
November 15 marks an important milestone in the School of Law's 2011-2012 Distinguished Speakers Series, with U.S. Supreme Court Justice Antolin Scalia providing the keynote address on "Why a Catholic Law School?"
Simultaneously, South Florida business leaders are currently gathered on campus for Global Entrepreneur Week, Nov. 14-18, an international initiative that introduces entrepreneurship to youths on six continents. St. Thomas University's
School of Business
has steadily gained a reputation for developing leaders in the business arena for 50 years.
The school and the Office of University Advancement strenuously worked to demonstrate the school's emphasis on entrepreneurship during the university's 50th anniversary year. The week kicked off with "From Idea to Start-Up – Beginnings," a forum through which prominent local business people shared their ideas and perceptions about what drives success. Participants included Miguel "Mike" Fernandez (chairman, MBF Healthcare Partners); Cesar Alvarez, Esq. (managing partner, Greenberg, Traurig); Raul Pedraza (president, Magno International); Jorge Mas (chairman, MasTec); Kenneth Rader (co-founder, The Cereal Bowl); and Tiphanie Tucker (president, Women Under Construction).
The Entrepreneur Boot Camp features industry experts advising small and medium-sized businesses on topics including finding capital, creating a business plan, and making the most of government opportunities. Being a student-centered laboratory for life, St. Thomas urged all students to enter the "Student Entrepreneur Competition," which required them to have a business plan, a physical display, and a Power Point presentation, with prizes awarded to the winners.
Startup Florida, an outgrowth of the Startup America program announced by the White House in January and spearheaded by Maria Hernandez from IBM Corp., is marked for Friday, Nov. 18. Its goal is to spur the creation of new businesses which leverage technology in industries such as health care, renewable energy, and sports management. Partners include InternetCoast, Enterprise Development Corporation of South Florida, and IBM Corp. Speakers include Marvin Wheeler (COO of Terremark); Manny Mencia (senior vice president of Enterprise Florida); and Claudia Munce (vice president of IBM's Venture Capital Group).
All events are open to our Catholic community, family and friends. In addition to celebrating a legacy of developing leaders for 50 years, the series intends to combine valuable socioeconomic contacts, brainstorming, faculty experience and alumni success in preparing our own Catholic family for the evolving realities of the global marketplace.
I invite you to stay in touch by finding us on facebook:
www.facebook.com/St.ThomasUniversity
and on twitter:
www.twitter.com/StThomasUniv