Back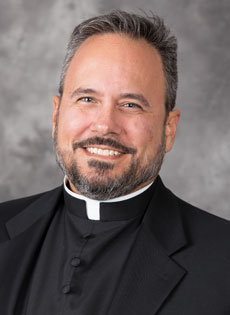 Zirilli was born in Melbourne, Fla., on April 26, 1971, the older of two boys. He graduated from the University of Florida in 1993 with a bachelor's degree in accounting and later obtained a master's in the field from the University of North Florida. For eight years, he worked as a certified public accountant in private practice in the Key Largo area. In 2002, he sold his firm and entered St. John Vianney College Seminary in Miami, where he completed the pre-theology program before entering St. Vincent de Paul Regional Seminary in Boynton Beach.
He was ordained for the Archdiocese of Miami on May 10, 2008. He was assigned to St. Louis Parish in Pinecrest before being named vocations director in September 2010.
When he knew he wanted to be a priest:
"When I was about 22 the thought came to me while sitting at Mass one day. I was looking at the priest celebrate Mass and knew in that moment God was calling me to it. It was a powerful, beautiful, frightening moment. Before that moment I had an inkling, so I began to find out more about my faith on my own. I read the Bible one chapter at a time, every night. It took a few years to finish."
Person most surprised by his vocation:
"Me. I had always seen myself as a businessman with a wife and kids but the call (to priesthood) just couldn't be ignored."
Seminary life:
"From the first day in the seminary I knew I had made the right decision. I felt as if God was telling me, 'I want you to be happy and if you follow me you'll be more happy than doing anything else."
Favorite priestly assignment:
"I have only had two, so far, and both assignments have been very different. As a parish priest I liked being involved in the day-to-day life at the parish and with the parish community; you get to develop solid relationships. I was always very moved by the example of faith. As vocations director I get to talk about the priesthood and how much I love it. I get to meet lots of people and travel to different parishes every weekend. I get to know both the pastors and the parish community."
'(I) serve God, but I am not God.'
The most difficult aspect of being a priest:
"(I) serve God, but I am not God. I pray I bring God's comfort and love to people, but wish I could help everyone. It is difficult to see human suffering. I pray I bring hope and Christ to people; I'm in the business of hope."
His description of the ideal priest:
"Must have a solid relationship with Christ, be happy, approachable, friendly, humorous and can articulate the faith to people yearning to hear it. Must have a beautiful heart and love God and have an incredible grasp of Scripture."
A priestly stereotype that he feels should be discarded:
"A lot of people think or view the priesthood as being a life without success or that it is a wasted or unhappy life. That tends to be a barrier to consider vocations. However, priesthood is filled with great happiness, joy and is fulfilling. I am reminded of Mother Teresa when she said, 'God calls us not to be successful, but to be faithful'."
Favorite TV series:
"MythBusters"
Last book read:
"Just finished reading the Sherlock Holmes mysteries on my e-reader and I'm now reading 'The Divine Comedy' by Dante, 'Spirit of the Living' by Pope Benedict XVI and 'Pride and Prejudice' by Jane Austen."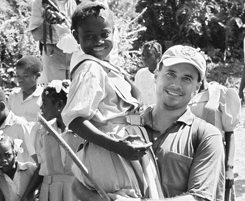 Father David Zirilli is pictured here during an Amor en Accion-sponsored missionary trip to the Diocese of Portde- Paix, Miami's sister diocese in northwest Haiti. The group consisted of seminarians and parishioners from St. Mary Star of the Sea in Key West who supported the construction of a new school in the village of Dity.
Favorite type of music:
"Love the '80s, but I can't pass on a good Gregorian chant. That's the best."
Person he most admires:
"St. Joseph because he was and is an ideal role model for Catholic men to be faithful husbands and fathers; he is also a good role model for priests because he was always open and willing to carry out the will of God."
His greatest disappointment:
"Not responding to the call (vocation) sooner, although that is hard to say. Sometimes things are for the best; no experience is wasted. We learn and grow both from our mistakes and successes."
His greatest joy:
"When God lets you see the fruit of your ministry. As priests our task is to sow the seeds not necessarily to see the fruits, but when God does allow it, it's a great joy to know that you have faithfully done your ministry."
His greatest accomplishment:
"If on my tombstone it reads: 'Here lies David Zirilli, a holy priest."