Back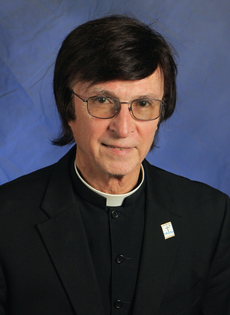 Born Aug. 14, 1947, in Indianapolis, he moved to Miami with his family "in 1955 BC — before Cubans," as he puts it. After graduating from St. Rose of Lima in Miami Shores, he attended high school and college at St. John Vianney Seminary in Miami and completed his studies for the priesthood at St. Vincent de Paul Regional Seminary in Boynton Beach. He was ordained for the Archdiocese of Miami on May 12, 1973.
Among his assignments, he has served as director of religious education for the archdiocese, pastor of St. John the Apostle in Hialeah, and chairman of the archdiocesan Art and Architecture Committee. He has been pastor of St. Bartholomew since 1986 and also serves as president of Msgr. Edward Pace High School in Miami Gardens.
On south Florida's diversity:
"I remember (when) there were no Cubans in Miami. … I remember there was one Spanish speaking kid in my class when I was in grade school, St. Rose of Lima, and he was from Nicaragua." Today, in Miramar alone, there are people from everywhere in the Caribbean, South America and Central America. "We have a recognizable Filipino community and a significant Nigerian community. South Florida has completely transformed into an international community. I've been here since 1955 and I've learned two extra languages (Spanish and French), and I haven't moved."
What he did before becoming a priest:
"Student. This is not a second career."
What triggered his vocation:
"Probably my family. I was raised in a family of practicing Catholics. My parents were music teachers and involved in music ministry in different churches. I always kind of grew up very close to the Church and involved in it."
What he would be doing if he had not become a priest:
"Maybe some social work program or teaching."
Favorite priestly assignment:
"Where I am right now. … Father David Russell told me years ago, 'The best job in the Church is being pastor of a parish.' And it's true."
'I've been here since 1955 and I've learned two extra languages (Spanish and French), and I haven't moved.'
View of the priesthood:
"I'm happy, very happy being a priest, very happy with the choice I've made. I would make it again."
Most difficult aspect of being a priest:
"Leadership through sharing vision, not by simply trying to give orders. It's getting people motivated and directed, whether it's in terms of spirituality or stewardship."
His description of the ideal priest:
"Someone who is pastorally sensitive, a good liturgist and preacher, and a good administrator."
A priestly stereotype that he feels should be discarded:
"That it's the priest's Church and the people are helping him run it. … We need priests; there's no question there. But everybody has responsibilities. That's the big thing about stewardship: We're all in this together. It's not my Church; it's our Church, and we must find out the different gifts that everybody has, as well as the different responsibilities we can all fulfill."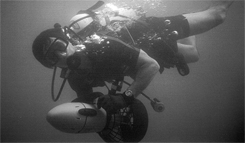 Scuba diving is among Father Vuturo's favorite sports. He obtained his license in December 1998. "It's like going to a different part of the world that most people don't get to see."
What he does on his day off:
"My father still lives in the area and I spend time with him." He also likes to scuba dive and play racquetball.
Favorite TV series:
"I enjoy the 'CSIs,' any variety of them."
Last book read:
"A Marginal Jew," by John P. Meier, and "The Gods of War," a novel about Julius Caesar, the fourth and final in Conn Iggulden's "Emperor" series.
Person he most admires:
"My father because of his relationship with me; the example he showed loving and taking care of my mother, who died in 2003; supporting his children; and his ongoing relationship with his adult sons."
His greatest disappointment:
"Narrow-mindedness in people, whether it's in political or Church leaders or people in general. Sometimes narrow-mindedness is reflected in prejudices, in racism."
His greatest accomplishment:
"Becoming pretty good at the sensitivity to ethnic differences, and blending the multiple layers of languages and cultures in our community."
Regrets:
"The times when I might have hurt people, when I should have been more sensitive and I wasn't."