Back
Born May 10, 1943 in Butte, Mont.,Father Holoubek moved to Clewiston, Fla.,with his parents and sister when he wasfour months old. He attended local publicschools, then studied one year at theUniversity of Florida before entering theseminary. He was a member of the secondclass to graduate from St. Vincent de PaulSeminary in Boynton Beach and wasordained to the priesthood May 24, 1969,for the Archdiocese of Miami. He hasserved at St. Juliana in West Palm Beach,as chaplain of the Civil Air Patrol in PalmBeach, as associate pastor at St. John theBaptist in Fort Lauderdale and St. Colemanin Pompano Beach, and as pastor at St.Lawrence in North Miami Beach. Hebecame pastor of St. Maurice in 2000 and also serves as chaplain of the Hollywood Fire Department.
Click here for more information about Fr. Holoubek.
What he did before becoming a priest:
He worked at an A&P grocery store as a bagger,stocker and checker, even mopping floors onoccasion. He also helped his dad mow lawns andwas a caddy at a golf course. One summer heworked as a security guard at United States SugarCorporation - seven days a week, from midnightto 7 a.m., swatting mosquitoes and punching aclock when he made rounds every half-hour.
When he knew he wanted to be a priest:
"If anything I was sure I didn't want to be a priestwhen I was in high school. I had a misconceptionthat it would be a very boring life, that the semi-nary would be the most boring place in the world.My vocation wasn't a sudden revelation; it hap-pened sometime during my time in the seminary. I grew into (the idea of becoming a priest). Someof the most wonderful people I have met in mylife were at the seminary."
What he would be doing if he had not become a priest:
Teaching.
Who was most surprised by his vocation:
"Myself. I really didn't think I was going to lastmore than a couple of months in the seminary."
"Life is difficult; it is the wiseperson who can embrace that truth."
Current responsibilities:
In addition to his duties as pastor, he is responsi-ble for St. Maurice's religious education programand oversees 43 active ministries at the parish.Along with volunteers of the parish's "WreckingCrew," he helps mow lawns, pick up trash, trimweeds and clean bathrooms on Fridays andSaturdays. "There are so many different dimen-sions to (being a priest). You have to specializein so many different things."
What he does on his days off:
"I visit friends and enjoy their company. I usedto play golf and tennis but had to give up thosesports because of weakness in my arms."
Favorite movie:
"Midnight Cowboy." "I like the story. It's abouttwo very struggling people making their way inlife, how they help one another. They have thisdignity about them."
His description of the ideal priest:
"Somebody who is very pastoral, very kind and agreat preacher, and someone who relates wellwith people."
Priestly stereotype that should be discarded:
"Some people believe that priests are more holythan lay people. I don't think priests are moreholy than anybody else.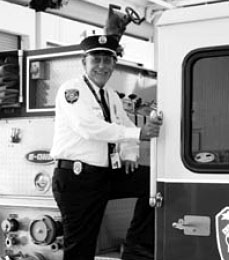 Father Holoubek serves as chaplain of the Hollywood FireDepartment.
Last book read:
"The Road Less Traveled" by Scott Peck. "Life isdifficult; it is the wise person who can embracethat truth."
Favorite type of music:
"New Age" and rhythm and blues."
What he collects:
University of Florida Gator memorabilia, includ-ing, but not limited to, sandals; Emmett Kellyclowns and gargoyles; reproductions of VincentVan Gogh paintings.
Thing he most fears:
"I feel that we as a society are too rapidly losing respect for the individual as a human being and as a spiritual person. Once the ego becomes God in our life, then we are doomed to our orig-inal sin. How often do we as individuals think we know everything?"
Persons he most admires:
Blessed Mother Teresa of Calcutta and DaveRobinson, director of Pax Christi, USA. "I caredeeply about peace and justice. We have a great hunger program here. There are peoplewho do care."
Thing he most fears:
Declining health, or a medical condition that would make him retire early.