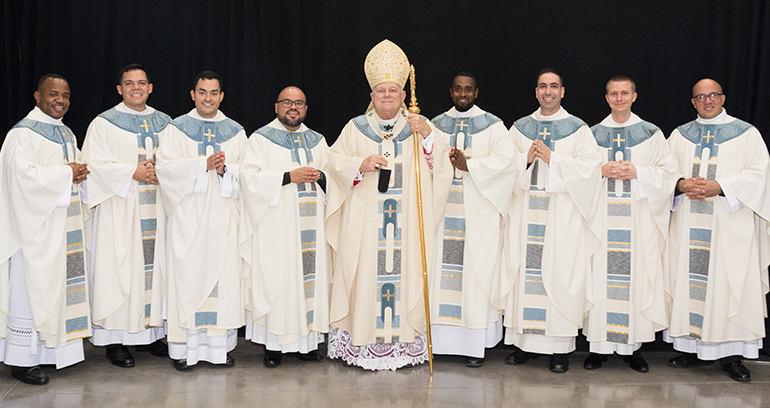 The Burse Fund helps pay for the education of Miami's future priests. During a time of pandemic and uncertainty, priests ensure the fulfillment of Jesus' promise: "I will be with you always, until the end of the age" (Matt 28:20) Without priests, Catholics do not have access to the Eucharist or the sacraments.
"The Gospel of Jesus Christ continues to need to be preached in every moment of our lives," said Father Matthew Gomez, who took over as archdiocesan director of vocations in July. "The studies, prayers, pastoral activities, and human growth that the seminarians undergo in the seminary is an assurance that the mission of the Church is alive and well and will also continue to be fulfilled."
The Archdiocese of Miami currently has 47 men studying for the priesthood. They pursue their academic studies at the college seminary of St. John Vianney in Miami and the major seminary (theologate) of St. Vincent de Paul in Boynton Beach. At St. John Vianney, they complete a bachelor's degree in philosophy or, if they already have a bachelor's degree, two years in pre-theology. At St. Vincent de Paul, seminarians pursue a Master of Divinity degree. They pause their academic studies for one year to experience life and work in a local parish.
Since the pandemic has limited attendance at Masses, the archdiocese is reminding Catholics that they can contribute online to the Burse Fund. The link for donations is adomdevelopment.org/bursefund.