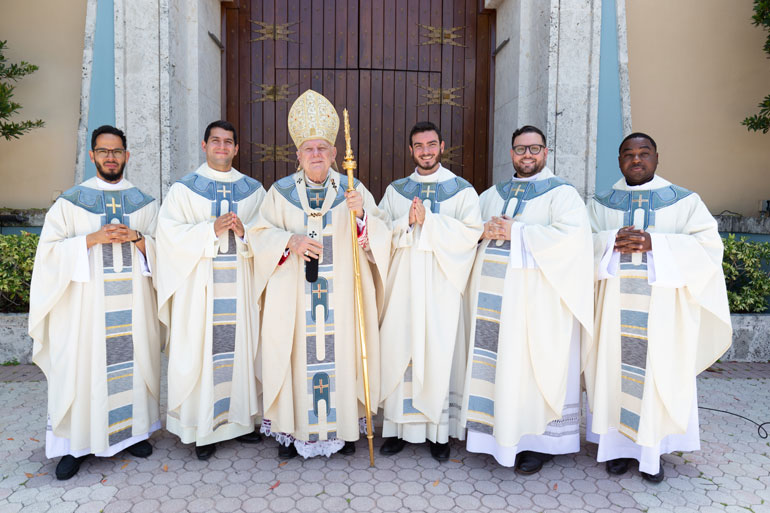 The Seminary Burse Fund helps pay for the education of the Archdiocese of Miami's future priests. In the seemingly hopelessness of the world offers us today, we turn to priests as signs of hope in the world. They are signs that remind us Jesus' promise "I will be with you always, until the end of the age" (Matt 28:20).
As the Church in the United States embarks on a journey of Eucharistic Revival we thank God for the gift of the priesthood that as Archbishop Wenski reminded us at the ordinations this past May, "To embrace the gift and to enter into the mystery which enables the priest, in communion with Jesus to act in his name and in his sight, as a shepherd of souls, is a step not to be taken lightly."
Through their formation in the seminary, the seminarians engage in studies, prayers, pastoral activities, and human growth to assure that the mission of the Church is alive and well and the call of Jesus will continue to be fulfilled.
The Archdiocese of Miami currently has 62 men studying for the priesthood. They are currently in the discipleship stage at St. John Vianney in Miami and the configuration stage at St. Vincent de Paul in Boynton Beach. At St. John Vianney, they complete a bachelor's degree in philosophy or, if they already have a bachelor's degree, two years of pre-theology. At St. Vincent de Paul, seminarians pursue a Master of Divinity degree. They pause their academic studies for one year to experience life and work in a local parish during the Pastoral Year.
This year the Burse Fund collection will be conducted through the second collection on August 5 – 6, 2023 in the parishes and online. Please follow this link to make a donation.