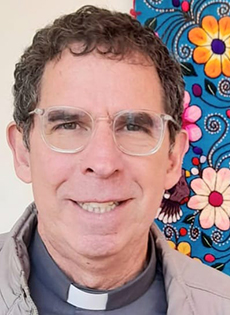 Jose Antonio Varela Vidal
Native of Lima, Peru, a deacon for the Archdiocese of Ayacucho, temporarily living in Madrid, where he exercises his pastoral ministry in the Diocese of Getafe and with the Pauline Fathers and Brothers.
Obtained journalism degree from Universidad Jaime Bausate y Meza, in Lima.
Pursued additional studies in philosophy, theology, religious journalism, new media, pastoral and intercultural-missionary communications, urban ministry, the social doctrine of the Church, missionology, and strategic and institutional communications.
Served as manager of a TV station and editor of two print magazines.
His articles have appeared in various Catholic publications worldwide, including Exaudi Catholic news agency, La Voz Católica in Miami, El Observador de la Actualidad in México, El Cooperador Paulino in Spain, Testimonio and Correo Mariano in Peru, Vida Nueva in Spain and Latin America (online edition) and Signis ALC (website and social networks).
Blog Archive
Total records: 5