Learn How to Deepen Your Prayer
Wednesday, Jun 23, 2021 from 7:30 PM to 9:00 PM - English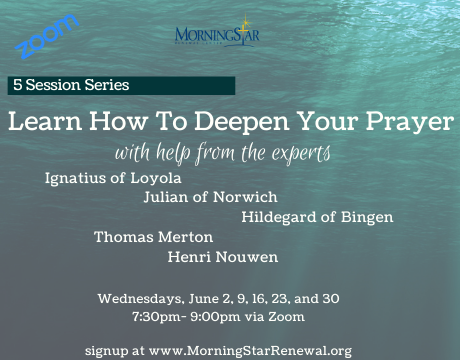 Deepen your prayer life with a little help from a Saint, Mystic, Doctor of the Church, Contemplative Monk, Priest/Teacher/Author. Attend one or all five!
Wednesdays, June 2, 9, 16, 23, and 30 | 7:30-9 p.m. via Zoom
https://www.morningstarrenewal.org/events/learn-how-to-deepen-your-prayer
Show more >>
Each session you will learn from their experiences and pray your own!
Explore new ways for prayer and/or refresh your current methods with ideas from the lives of these faithful ones — 5 Sessions — 5 Master-teachers — Lots to explore: imaginative prayer, meditative embodied prayer, praying with creation, contemplation and action, authenticity and intimacy with God.
Facilitator: Sue DeFerrari
$10 a session or $40 for all five
Signup here: https://www.morningstarrenewal.org/events/learn-how-to-deepen-your-prayer
Location
Zoom Online
https://www.morningstarrenewal.org/all-events 7275 SW 124 Street, Miami, FL 33176 (Map)