The Community of St. John Paul II
Tuesday, Nov 19, 2019 from 7:45 PM to 9:30 PM - English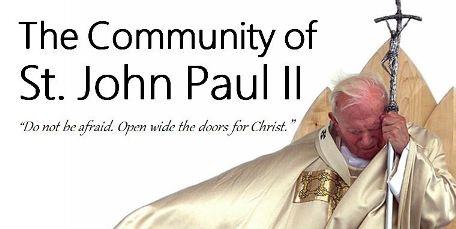 The Community of St. John Paul II invites you to our new prayer and study group inspired by the life, spirituality and writings of St. John Paul II. We are happy to announce that we are now meeting every Tuesday of the month.
Our Mission: To deepen our Catholic faith, to respect and defend the sacredness of life, to live the fullness of the Gospel message, to promote the new evangelization and grow in greater love of God and neighbor as taught and exemplified by Pope St. John Paul II. As St. John Paul II repeatedly said, "Be not afraid! Open wide the doors to Christ". We seek to open the doors to Christ of the new evangelization in all the dimensions of human life: family, marriage, work, social, cultural, artistic, intellectual, historical... all in and for Christ.
Please join us every Tuesday of the month at Good Shepherd Catholic Church, at 7:45 p.m., room #206 of the school.
We are excited to explore and study the rich intellectual and spiritual legacy of St. John Paul II and the Catholic Magisterium including that of the great Popes and teachers of our holy Church throughout the ages. Please join us for a spiritual and intellectual adventure in Christ, with the Church and St. John Paul II to guide us.
Additional projects: Rosary for Life: "Life is a gift, not a choice!
Location
Good Shepherd Church
School class room #206 14187 SW 72nd Street, Miami, FL 33183 (Map)
Contact Information
Silvia Espinosa-Schrock
305-772-4951