Lumen Gentium: The People of God
Tuesday, Feb 18, 2020 from 7:45 PM to 9:30 PM - English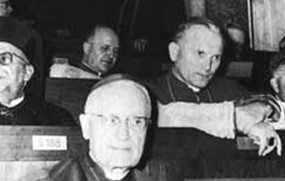 Lumen Gentium - Dogmatic Constitution on the Church, Vatican II
Part II: The People of God & the Episcopate
On the 21st of November, 1964, Pope St. Paul VI promulgated the Dogmatic Constitution on the Church know as Lumen Gentium, "Light of the Nations." Considered one of the principal documents of the Second Vatican Council, it sought to clarify and affirm the sacred mission, nature, and authority of the Church to bring the Light of Christ to the whole of humanity and thus attain fuller unity in Christ.
As the opening proclaims in Ch.1, "Mystery of the Church":
1. Christ is the Light of nations. Because this is so, this Sacred Synod gathered together in the Holy Spirit eagerly desires, by proclaiming the Gospel to every creature, to bring the light of Christ to all men, a light brightly visible on the countenance of the Church. Since the Church is in Christ like a sacrament or as a sign and instrument both of a very closely knit union with God and of the unity of the whole human race, it desires now to unfold more fully to the faithful of the Church and to the whole world its own inner nature and universal mission. This it intends to do following faithfully the teaching of previous councils. The present-day conditions of the world add greater urgency to this work of the Church so that all men, joined more closely today by various social, technical and cultural ties, might also attain fuller unity in Christ.
Please join us as we prayerfully reflect on Lumen Gentium, Chapters:
2 The People of God and
3 The Hierarchical Structure of the Church
February 18, Tuesday, 7:45 p.m., Room 206
Good Shepherd Catholic Church
Sponsored by The Community of St. John Paul II.
[email protected], www.cstjpii.blogspot.com
Location
Good Shepherd Church
School class room #206 14187 SW 72nd Street, Miami, FL 33183 (Map)
Contact Information
305-772-4951