Please click here to report any information you know or believe to be incorrect. We will verify with the church and update the website.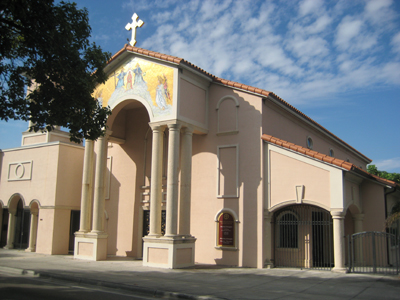 CONTACT INFO
(305) 856-7449
(305) 856-5740
Social Media
History
Our Lady of Lebanon Church in Miami had its official beginnings on September 8, 1973, a day on which we celebrate two feasts of the Virgin Mary: Her Nativity and Her title as the Patroness of Cuba, the Virgin of Charity (La Virgen de la Caridad del Cobre).
At that time, Archbishop Francis Zayek was the Bishop of the Maronites in the United States. He personally founded the parish on that day, celebrating the first Mass at Saints Peter and Paul Church in Miami. Approximately 350 people participated in the Mass and took part in the luncheon afterwards, which was hosted by Mr. and Mrs. Anthony Abraham.
Archbishop Zayek was so impressed with the response of the faithful that he appointed the newly ordained priest, Father Joseph Kaddo, as the first Administrator of Our Lady of Rio bet Lebanon Mission in Miami, on September 28, 1973.
The first mass was celebrated by Father Kaddo at the Assumption Ukrainian Catholic Church. The first Sunday collection taken was $143.26.
Father Kaddo lived in an apartment provided by Mr. and Mrs. Woodrow Woody and later by Mr. and Mrs. Anthony Abraham. Subsequently, Father Kaddo began celebrating Sunday Masses at the Syrian Lebanon American Club on Coral Way.
The official parish registers indicate that the first Baptism and Confirmation was that of Joseph Coury Lawrence, whose parents are Michael and Patricia Lawrence, on March 31, 1974. The first child to receive First Holy Communion was Laila Gacel, child of Alfredo and Yasmin Gacel, on September 8, 1974. She was alone making her First Communion on that day, the first anniversary of the founding of the parish.