Monday, February 13, 2017
Br. Jay RIVERA FFV
- Franciscans of Life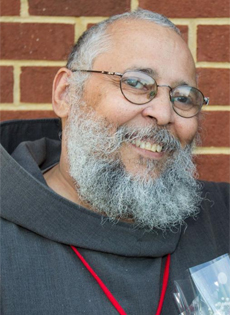 I have to share this, because I must be missing something.
I have now finished reading Amoris Laetitia, including the "infamous" Chapter Eight. As I read through this document, I can see some statements that need further clarification or better wording, simply because most people do not think in Spanish and write in Latin or Italian. That's an unusual crossover. As one who speaks Spanish and Italian, I reread those expressions that sounded odd to my Anglophone ear, repeating them to myself in Spanish and realized, "Oh, this is the way an Argentine would say X; whereas a European or an American would say it this other way."
Contrary to what the Blogisterium is saying, I did find where the Holy Father makes some very precise points. Marriage is indissoluble. A relationship between homosexual persons can in no way be elevated to the level of marriage. We cannot disregard the rules, just because time changes. And the exception is not the rule.
I can appreciate the fact that he describes what is happening in marriage and family life in First World countries and even in South American middle class society. His description is quite accurate. I can testify to this as one who has lived on three continents and four countries. It's not a pretty picture, but it is what it is and we, Catholics and non-Catholics, have to begin to help heal the wounded, where they're at, while at the same time teach the younger generation what they need to know before marriage, to avoid more casualties in the future. I believe this is the tone of this exhortation. We have to fight the secularist perception of love and commitment.
I don't get the impression that the Holy Father is trying to change rules, disciplines, traditions, moral laws or doctrines. He means to paint a portrait of what love, marriage and family should be and what it is in many parts of our society. We don't like the picture, but it won't go away because we don't like it. We have to attack the problem with a double barrel, palliative and preventative.
In short, I can't find anything that is heretical or new, other than the pastoral approach that the Holy Father suggests. I use that word because he is suggesting, not demanding.
In addition, I don't agree with the manner in which some people speak about the Holy Father and the exhortation. There are many things that people in positions of authority do and say that may upset us. That does not give us the right to call the Vicar of Christ a heretic, Modernist, agent of the devil, or any other such labels.
If there is one thing that our holy Father Saint Francis taught not only his brothers and sisters, but also the people of his day, was to speak and think about the pope, bishops and other clergy with reverence and humility. He had no problems seeing weaknesses, nor did he have problems defending what he believed to be true. But he had a very serious problem with any Franciscan or lay person who spoke disrespectfully about the pope or the rest of the clergy.
The argument, "I'm not a Franciscan," doesn't apply here; because Francis' example of holiness, humility, charity, respect and submission was for the benefit of the entire Church, not just for those in his religious family.
When reading the exhortation, do not be afraid to disagree or to ask for clarification; but run away from the temptation to malign the good name of anyone, especially the Vicar of Christ. He does not have to be perfect to command our respect. This was made very clear by the Council of Trent and Vatican II.
Humble people who ask questions, offer suggestions, and show respect get further ahead than those who are hostile. Hostility creates distance between people. It does not build bridges of communication and reflection.