Back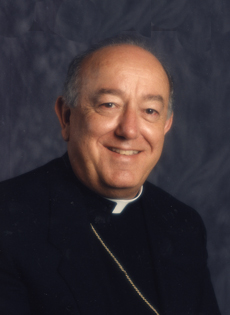 Born Dec. 5, 1935, in New Orleans, Archbishop Favalora is the only child of an Italian grocer and a Cajun homemaker. He attended the all-boys Jesuit High School in New Orleans and entered the seminary in the New Orleans area after graduation. He completed his theology studies at the Pontifical Gregorian University in Rome and was ordained there on Dec. 20, 1961, for the Archdiocese of New Orleans.
He worked as a seminary high school teacher, seminary rector, archbishop's secretary, judge in the tribunal, pastor, director of the permanent diaconate office and vocations director until being named the first bishop of Alexandria, La., on June 23, 1986. On March 7, 1989, he was named bishop of St. Petersburg, and on Nov. 3, 1994, he was appointed Miami's third archbishop. In addition to degrees in theology, he earned certification as a Latin and social studies teacher from Xavier University in New Orleans and a master's in education from Tulane University.
Click here for more information about Archbishop Favalora.
What he did before becoming a priest:
He entered the seminary right after high school.
When he knew he wanted to be a priest:
As a high school senior, he seriously considered joining the Jesuits, but decided against it for fear that he would spend more time teaching than doing parish work. Ironically, he spent 17 years of his priesthood working as a teacher and considers teaching the primary role of a bishop.
Person or event that triggered his vocation:
The example of his Jesuit teachers and his own attendance at daily Mass.
On teaching:
"I was teaching high school (boys). It absolutely is tough. … But I enjoyed my teaching years very, very much. I would say there's probably nothing that I did that prepared me better to be a bishop than that. Because my chief role as bishop is a teacher."
What he would be doing if he had not become a priest:
"I thought of medicine, but didn't like science. I thought of law. I thought of architecture, but couldn't draw. Probably the architecture is what I still like to dabble in."
'I guess I've never perceived myself as a worrier.'
Favorite aspect of the priesthood:
"Preaching and hearing confessions. "Preaching and teaching are very much united. My vision, my image there, is Jesus preaching to the crowds. It's the teacher's challenge of whetting someone's appetite so that their mind gets moving or their heart gets moving in the right direction." Confession is similar, except the experience is one on one. "It's the dialogue between Jesus and one other person. It's that challenge that you have as an instrument of God's grace to choose the right words, to pray for the enlightenment to say the right thing that will dispose that person to be as open to God's grace as possible.""
Most difficult aspect of being a priest:
"Being misunderstood.…In an instance when the Church might be delivering a teaching that is very hard to hear, you very much feel as Jesus did in the Gospel, when he preached about the Eucharist and many of his close disciples walked away and never returned.…I guess that's where I have the most difficulty, embracing the cross lovingly. I think, rather naturally speaking, you want to run away from the cross. You want to disassociate yourself from the cross. Yet you know that to do that would be to deny the Lord."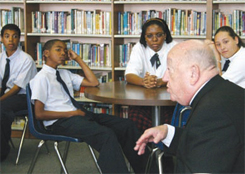 Archbishop Favalora is shown here chatting with the confirmation class at St. Stephen School in Miramar in 2006. "I still enjoy visiting schools and spending a period just taking questions from (kids)."
What he does on his day off:
"He loves to cook and tend to his herb garden; or sit in the sun and read.
Favorite TV series:
The Honeymooners" (he has the complete series) and "Everybody Loves Raymond.
Favorite type of music:
Classical
Thing he most fears:
Not much. His episcopal motto is "God will provide." "I guess I've never perceived myself as a worrier. I try to deal with whatever comes," make a decision and move on. "You may find out tomorrow or next month or next year that the decision was wrong. Then my answer is, we'll change our position. If it indeed is wrong, I don't have any problem saying that."