Back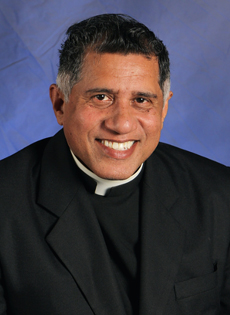 Born in 1955 in the state of Kerala, India, Father Puthusseril was ordained for the Diocese of Krishnagar, India, on Oct. 6, 1979. While studying for his canon law degree in Rome, he made friends with some priests from the northern United States, whom he visited a few summers.
That is how he found out about Florida, where there was "great weather, similar to what we have back in Kerala, India." He came to Miami in 1990 and was incardinated (made a part of the archdiocese) in 1995. Along with parish work, he has served as archdiocesan coordinator for high-tech, and a judge and defender of the bond in the Metropolitan Tribunal. Since July 2002, he has been pastor of St. Andrew Parish in Coral Springs.
What he did before becoming a priest:
"I was studying. I am not a 'late vocation."
When he knew he wanted to be a priest:
"From an early age, probably around 8 or 9. But that was not a definite. When I became a teenager, I was not 100 percent sure if that was the way I wanted to go. I had some questions and wavering moments, but then, finally, it worked out this way."
Person or event that triggered his vocation:
"No one, really, but there were people who wanted me to leave my vocation. … My father died when I was 21 and in our culture, the oldest son takes on the family responsibilities. So, when my father died, I was still in the seminary and some members of my family told me, 'It's time to leave the seminary, come home and take care of the family."
What he would be doing if he had not become a priest:
"I would have taken electronic engineering. Electronics was my hobby. I loved building my own little gadgets."
What the seminary did not prepare him for:
The business aspect of the Church, administration and finances. "And I don't blame them, because that is not a business school. … You learn things at the parish. That happens in any profession. I don't look at it as a negative."
'Electronics was my hobby. I loved building my own little gadgets'
The most difficult aspect of being a priest:
"Trying to please everybody. It's almost impossible."
His description of the ideal priest:
"The ideal priest is, naturally, Jesus Christ. Can we imitate Jesus Christ 100 percent? We are human beings; we try the best we can."
On compassion and the law:
"It is always a juggling act trying to be compassionate, understanding, loving, caring and yet to fulfill the requirements of the laws of the Church. Being a canonist, it makes it more difficult because I know the law."
A priestly stereotype that should be discarded:
That priests have no faults or failures. "Priests are human beings.…They make mistakes.…I don't mean that priests should not be holy; they should be. But we do not always reach the ideal."
What he does on his day off:
"I wear a different set of clothes and I work in my office during the morning, trying to catch up on all the things that I need to do, and all the paperwork. But in the afternoon, I try to relax a bit and go out for dinner."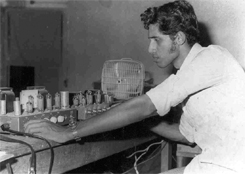 Father Puthusseril is shown here tinkering with an amplifier in the auditorium of the papal seminary in Pune, India, in the late 1970s. He still loves tinkering with electronics and computers.
Favorite movie:
"Life is Beautiful"
Favorite TV series:
"What is TV? I have no time for TV!"
Last book read:
"The Case for Christ" by Lee Strobel, an investigative journalist and agnostic who became a believer."
Favorite type of music:
"I mostly listen to spirituals in my mother tongue."
Person he most admires:
"I do admire my mother greatly because of the struggles she had to go through: being a single mother raising seven children on her own; two or three of us were of age, but the others were still young."
His greatest joy:
"I find great joy in celebrating the sacraments, in ministering to people."
Thing he most fears:
"I really don't want to die without the sacraments."
Regrets:
"I don't really have any. … If you ask me if I would be a priest all over again, I would say 'yes!' even with all the challenges that are out there today."