Back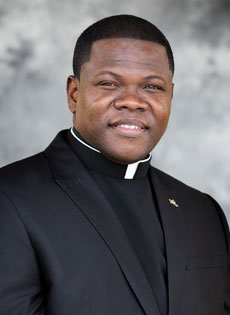 "I give all of me to serving you"
Deacon Brevil, 38, was born Jan. 6, 1981 in Port-au-Prince, Haiti to Joseph Brevil (deceased), and Louisina Jeantilus. He is the youngest of 10 children, and has six sisters and three brothers. He grew up with his oldest sister in Haiti and joined the Redemptorist Order after graduating from high school, eventually making temporary vows (2006-2012). In 2010, after the earthquake in Haiti, the community sent him to the Dominican Republic and Colombia, where he learned Spanish. He also participated in a three week-session on religious formation in Canada. He returned to Haiti in 2012 and graduated with a degree in theology from CIFOR (Centre Institute De Formation Religieuse).
He was never ordained, however, and eventually left the Redemptorists. When he came to Florida for a family member's funeral, he felt a renewed spirit to follow Jesus through the ministry of priesthood.In 2013, he applied to the Archdiocese of Miami and after a year of discernment was accepted as a seminarian. He studied at St. John Vianney College Seminary in Miami and St. Vincent de Paul Regional Seminary in Boynton Beach.
He served at St. Helen in Fort Lauderdale and most recently as a deacon at St. John the Apostle in Hialeah. He will celebrate his first Masses May 12, at 11 a.m. at St. John and at 5 p.m. at St. Helen.
Watch his video interview here: