Back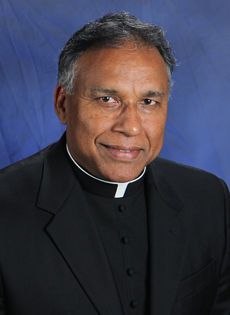 Born April 1, 1959, in Kerala, the most Catholic state of India, he is the fifth of seven children. Ordained Dec. 23, 1979, he came to the United States in 1990 and worked at St. Agnes Parish in downtown Brooklyn, N.Y. The cold winter did not suit him, however, so a priest friend invited him to come to South Florida. Since 1991, he has served at St. Coleman Parish in Pompano, St. Maximilian Kolbe in Pembroke Pines, St. John Neumann in Kendall and St. Catherine of Siena in Miami. On July 1, 2002, he was named pastor of the newly-created Blessed John XXIII Parish in Miramar.
When he knew he wanted to be a priest:
"In the third grade or fourth grade, when I was an altar boy in church." His uncle is a priest. "I think that kind of inspired me." At the time, however, he wanted to join the Salesians. "They had these youth centers and kids playing soccer all the time. That's what I thought. At that age, I was more interested in sports." His uncle vetoed the idea and told him to become a diocesan priest. "God has a way of making things work out. I ended up being a missionary here, which is nice."
What he would be doing if he had not become a priest:
"I think I would be a teacher. I like being with children, probably middle school."
Favorite TV series:
"I like comedies. I still watch Seinfeld whenever I get a chance. It's about nothing, they say, but it's interesting."
Last book read:
"The DaVinci Code," a thriller in a church setting. "Fiction, of course. There is no fact to it."
Hobbies:
"I like to travel. I like to see places. I like to enjoy God's creation."
Favorite part of being a priest:
"Going into the CCD classes and meeting children in the classrooms and talking to them."
"There are many times in life, when you feel concerned and worried and a little bit weak in your faith, the faith of your people inspires you."
Has it been difficult to start a parish?
"No. Not really. Because I met so many nice people here. They're the ones who build the parish. They make the parish here every Sunday."
On last year's sex abuse scandal:
"As priests, all of us were not having good days (back then). But I started meeting people and they picked up my faith. That's the most amazing part of being a priest - faith supplies. There are many times in life, when you feel concerned and worried and a little weak in your faith, the faith of your people inspires you. That, I experienced last year in the parish."
Most difficult aspect of being a priest:
"You feel like you are so limited. Many things you find are beyond your control. You feel powerless."
His description of the ideal priest:
"Very compassionate, understanding, listening to the people's problems, praying with them and for them. And I'm not there yet. I'm still working on it."
Sign on his desk:
"Be patient. God isn't finished with me yet."
Priestly stereotype that should be discarded:
"We need to bring the human side of priests out to the people more. I wouldn't want to stand on a pedestal."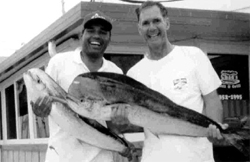 Father Joseph Kottayil, left, and Father James McCreanor, of Sacred Heart Church in Homestead, with two that did not get away. "I kept the picture to prove that I really caught one," Father Kottayil said.
His harshest critic:
"Me. I think I'm hard on myself sometimes."
When he feels he has failed:
"When I do not connect with others, my fellow human beings."
What the seminary did not prepare him for:
"The administration part of being a pastor is kind of left out. Being a pastor is sometimes being a CEO. But I guess your kindness and compassion take care of it."
His greatest accomplishment:
"I haven't gotten there yet. I'm still working on it, I think."
Person he most admires:
Gandhi: "My parents had seen him. But he inspired me because he was a non-violent person. He was influenced a lot by Jesus Christ (and his Sermon on the Mount). His doctrine was an all-inclusive doctrine, the poor as well as the rich."
Thing he most fears:
"The day I won't be able to be a part of the community, part of a family of God. I fear that because I like being in the community now."