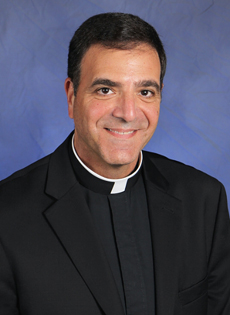 Born and raised in Fort Lauderdale; graduate of St. Anthony School and St. Thomas Aquinas High School;
Earned bachelor's in philosophy (St. John Vianney College Seminary, Miami); masters in divinity and theology (St. Vincent de Paul Regional Seminary, Boynton Beach); licentiate in canon law (Catholic University of America, Washington, D.C.); doctorate in canon law (Pontifical Gregorian University, Rome).
Ordained for the Archdiocese of Miami, May 21, 1988.
Has served as parochial vicar at Holy Family, North Miami, and St. Rose of Lima, Miami Shores; as priest-secretary to Archbishop John C. Favalora; and as archdiocesan chancellor.
Currently pastor of St. Andrew Church, Coral Springs, and adjutant judicial vicar, Metropolitan Tribunal.
Blog Archive
Total records: 2