Spanish
Registration for School of Lay Formation class 2019-2021 is now open!!

The Spanish language traditional in person training centers are located at St. Brendan High School in Westchester, St. Andrew parish in Coral Springs, and at St. Bartholomew parish in Miramar.

We are also accepting candidates for online courses in English and Spanish.

Enrollment will be open until September 30 with classes beginning in October.

Space is limited - Classes fill up quickly – Register NOW! and take advantage of the low registration fee of $25.00 until September 20, 2019, or $50 from September 21, 2019 until beginning of class.

For further information, please contact us at 305-762-1184 or [email protected].
CONTACT INFO
Office Assistant
Fior Ramirez
9401 Biscayne Boulevard
Miami Shores, FL 33138
305-762-1184
305 762-1086
305-762-1298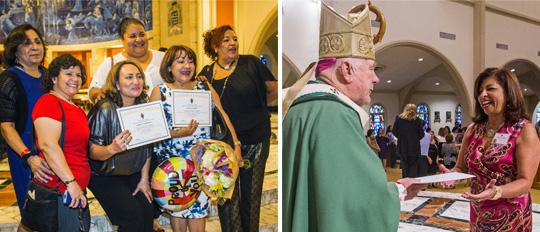 What is the School of Lay Formation?
The School of Lay formation forms lay men and women who desire to grow in their understanding of the Catholic faith and in their ability to serve the Church. Over the course of two years, participants develop knowledge in spirituality, theology, and pastoral service. Upon completion of the certificate program, graduates find they are closer to Jesus and are better able to serve in their parish and community.
What is the format of the program?
There are two different formats. Choose the format that works best for you.
Traditional classroom format is offered in Spanish, or Creole. This course meets once a week for two years (summers off).
Online program is offered in English or Spanish and incorporates 8 online courses, and in person meetings over a two-year period of time.
What type of certificate can I receive at the end?
Catholic Studies Certificate is available to Catholics interested in learning more about the faith who aren't certain about their call to service.
All participants enjoy connecting with a community of adult believers from parishes throughout the Archdiocese. This leads to rich discussion, and a broader notion of Church.
School of Lay Formation Requirements:
Complete Registration Materials: Registration form, Non-refundable Registration fee, two Personal Recommendations (one must come from your pastor and one lay person), and Payment Plan form.
Excellent attendance and participation in class or online.
One Weekend Overnight Retreat and one Enrichment Day.
Tuition for 2019-2021:
Only 20 payments of $28 per person (plus a nonrefundable $100 payment in September or before) or 20 payments of $51 per couple (plus a non-refundable $200 payment in September or before).
Registration forms are due by September 30, 2019. Forms may be accepted after that date depending on availability. Some classes fill quickly. Please register as soon as possible. Download the Registration Form located in the box "Forms" at the top of this page.