Schott Music, Art and Wine Event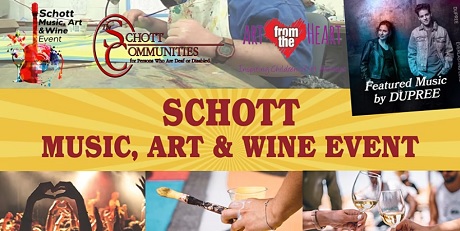 Presenting a concert and art auction for the benefit of the Schott Communities, sponsored by Archbishop Ambrose DePaoli Assembly No. 3218 - a 4th-degree chapter of the Knights of Columbus.
http://schott-music-and-arts.org/
For tickets: http://www.eventbrite.com/e/schott-music-art-wine-event-tickets-356816817707
Show more >>
The Friday and Saturday evening event includes an entertaining combination of a silent art auction, a wine garden, food and beverages, and a live music concert.
As an extension of the ministry of the Archdiocese of Miami, Schott Communities is focused on providing for the needs of persons who are deaf or who are physically or intellectually challenged in South Florida. All proceeds from the event will go to this worthy charity.
Sip on wine from the wine garden or your favorite beverage from the bar, and enjoy some tasty food while viewing paintings created by Schott resident students and artists; talk to the artists about their works; bid on paintings in a silent auction; cap the night with an inspiring and uplifting musical show by acclaimed Christian recording artists DUPREE.
Buy a VIP pass for special experiences and benefits:
Be the first in and select a premium seat from the preferred VIP section guests are invited to experience a Live Soundcheck followed by a Meet & Greet with the music artists
Receive a personalized lanyard, an autographed CD, and two DUPREE wristbands
Includes two beverages from the bar
Buy an Early Entry pass to get ahead of the crowd and select the best seats before general admission ticket holders.
Event Schedule - Friday, Sept. 9 and Saturday, Sept 10:
4:30 p.m.: Art Auction open to all ticket holders; food and beverages available
5 p.m.: Concert hall doors open for VIP guests
5:15-5:45 p.m.: VIP Live Sound Check + Meet & Greet with DUPREE
6 p.m.: Concert hall doors open for Early Entry guests
6:15 p.m.: Concert hall doors open for General Admission
7 p.m.: Showtime!
8:30 p.m.: Concert ends
8:30-9:30 p.m.: Art Auction winner announcements and checkout
About DUPREE
For 2022, Schott Music, Wine & Art welcomes acclaimed Christian recording artists DUPREE - the only mother/son duo in Christian contemporary music. Writing, recording, and producing their music from Orlando, the group's songs are heard daily around the world on hundreds of radio stations and social media. Their music conveys the positive messages of Jesus Christ through uplifting melodies, smooth harmonies, and inspirational lyrics. The group's signature sound includes Dylan's virtuoso guitar playing and solos.
As a young prodigy, Dylan was discovered at age 17 by the multi-platinum-selling band LFO, touring with them as lead guitarist before forming DUPREE with his mother Lauren. He has been called the "John Mayer" of Christian music and his versatile solos have been compared to the styles of Jimi Hendrix, Brad Paisley, and Eddie Van Halen.
Lauren grew up in east Tennessee playing piano and singing at church. You can hear this "country church" influence in several of their songs like Your Way and Chapel Song (Old Dirt Road). But their songwriting is diverse and the duo has produced many popular rock songs including Mighty and Never Forget and pop songs - Everlasting Love, Can You Feel It (Change Gonna Come).
With powerful Christian-based songs, amazing guitar solos, and a one-of-a-kind mother/son onstage dynamic, the DUPREE show is inspirational, entertaining, heart-warming, and always humorous. The show is great for the entire family.
Location
Schott Communities
Church 6591 South Flamingo Road, Cooper City, FL, FL 33330 (Map)
Contact Information
Schott Communities
954-434-3306