World Men's Rosary
Saturday, Aug 20, 2022 from 9:00 AM to 11:00 AM - Bilingual (English and Spanish)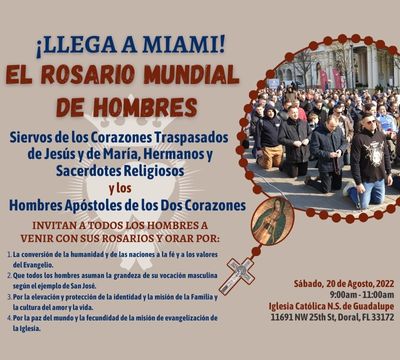 World Men's Rosary
Saturday, August 20, 2022
9:00am - 11:00am
Our Lady of Guadalupe Catholic Church (Outdoors)
11691 NW 25th St, Doral, FL 33172

Show more >>
The Servants of the Pierced Hearts of Jesus and Mary, Religious Brothers and Priests and the Apostles of the Two Hearts invite all men to come together and pray the Holy Rosary for the following intentions:
- The conversion of humanity and of all nations to the faith and to the values of the Gospel.
- For men to embrace the greatness of their masculine vocation following the example of St. Joseph.
- For the elevation and protection of the identity and mission of the Family and the culture of love and life.
- For the peace of the world and the fruitfulness of the mission of evangelization of the Church.
The event will be outdoors, at Our Lady of Guadalupe Catholic Church (11691 NW 25th St, Doral, FL 33172) on Saturday, August 20, 2022 from 9:00am to 11:00am.
Documents
Location
Our Lady of Guadalupe Church
Outdoor Event 11691 NW 25 St., Doral, FL 33172 (Map)
Contact Information
SCTJM Religious Brothers and Priests