Christian Life Program
Saturday, Aug 13, 2022 from 8:00 AM to 6:00 PM - English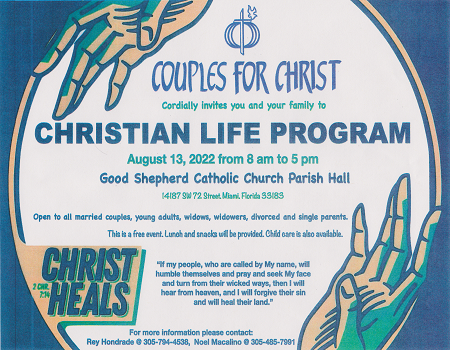 Couples for Christ is a Catholic movement intended for the renewal and strengthening of Christian family life. CFC couples and their families have committed themselves to the Lord and to one another so that they may grow in maturity as men and women of God and fulfill their primary vocation of raising families grounded in Christian values, in service and in loving God and others.
Our Vision: Building the Church of the Home, Building the Church of the Poor. Our Mission: Families in the Holy Spirit renewing the face of the earth.
Cordially invites all married couples, young adults, widows, widowers, divorced and single parents.
Good Shepherd Catholic Church Parish Hall
August 13, 2022 from 8 a.m. to 5 p.m.
For more Information please contact:
Rey Hondrade: 305-794-4538
Noel Macalino: 305-485-7991
Registration is free.
Free child care provided.
Show more >>
What Is Christian Life Program (CLP)?
The Christian Life Program (CLP) is an integrated course intended to lead the program participants into a renewed understanding of God's call to them as Christian couples or individuals. 
What are the goals of the CLP?
For the individual, it brings a person into a stronger relationship with God by discovering and living more fully the power and gifts he or she received through the Holy Spirit.
For the family, it brings married couples to a renewed commitment to Christian family Life and it starts to build up a community of committed Christian families.
For the Church, it brings people within a particular parish to a fuller experience of life in the Spirit. Consequently, it strengthens and revitalizes community life in the parish.
Location
Good Shepherd Church
Good Shepherd Catholic Church Parish Hall 14187 SW 72nd Street, Miami, FL 33183 (Map)
Contact Information
Rey Hondrade
305-794-4538