Treasures of the Church: 150 relics of Catholic saints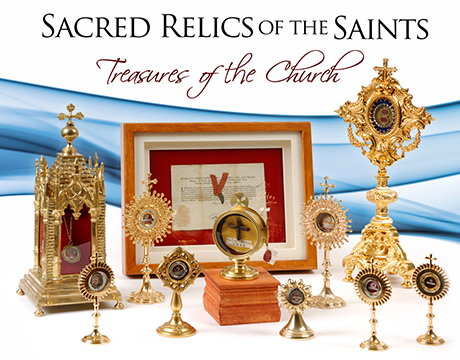 This amazing exhibition, which will be travelling across the entire state of Florida in the month of May, provides an incredible opportunity for Catholics to venerate more than 150 relics of our Church's greatest saints, including one of the largest remaining portion of the True Cross and a fragment of the veil of the Blessed Virgin Mary.
Look at the attachment for the list of relics.
The exhibit will stop at several parishes in the Archdiocese of Miami but the schedule is still being set. Go to https://treasuresofthechurch.com/ to find the latest information.
Currently scheduled stops (updated list):
St. John Neumann, Miami, Sunday, May 15, 3:00 p.m.
St. Rose of Lima, Miami Shores, Monday, May 16, 6:30 p.m.
St. Ambrose, Deerfield Beach, Tuesday, May 17, 6:30 p.m.
Our Lady of Guadalupe, Doral, Wednesday, May 18, 6:30 p.m.
St. Clement, Wilton Manors, Thursday, May 19, 6:30 p.m.
St. Gregory, Plantation, Friday, May 20, 6:30 p.m.
St. Malachy, Tamarac, Sunday, May 22, 4:30 p.m.
St. Gabriel, Pompano Beach, Monday, May 23, 6:30 p.m.
Little Flower, Coral Gables, Tuesday, May 24, 6:30 p.m.
Show more >>
Father Carlos Martins, CC, a Custos Reliquiarum (ecclesiastically-appointed Curate of Relics), will return to Florida this May, with a Vatican exhibit of more than 150 relics of saints canonized by the Catholic Church. It is highlighted by one of the largest remaining relics of the True Cross in the world, as well as a piece of the veil that, according to ancient tradition, is believed to have belonged to the Blessed Virgin Mary.
Father Martins begins each exposition with a 60-minute presentation and teaching on relics which provides the catechetical and spiritual basis for the Walk with the Saints that follows the presentation. The point of the teaching is the presentation of the basic Gospel message of Jesus Christ: that God is here right now and wants to be encountered; He touches us through the lives and the sacred remains of His saints.

Documents
Location
Various
churches, Dade and Broward, FL 33138 (Map)
Contact Information