Stewardship and Ambassador of First Impressions Day
Saturday, Oct 2, 2021 from 8:00 AM to 4:30 PM - Trilingual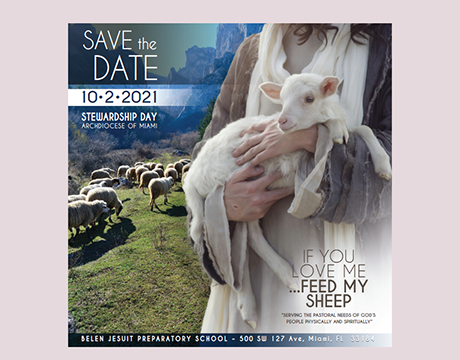 Pastors, staff and parish and ministry leaders will get two-for-one lessons while attending the 2021 Stewardship and Ambassador of First Impressions Day. They will learn how to make a good "first impression" that enhances the culture of parish life while also picking up tips on how to foster engagement and increase support for carrying out the mission of the Church.
The theme of the trilingual conference is "If you love me ... feed my sheep," and it will take place Saturday, Oct. 2, from 8 a.m. to 4:30 p.m. at Belen Jesuit Preparatory School, 500 S.W. 127 Ave., Miami. The keynote speaker will be Cande De Leon, author of "Heart of the Mission" and executive director of the Office of Mission Advancement in the Diocese of Phoenix.
The day will consist of 16 breakout sessions featuring special guest speakers who will offer the courses in three languages, English, Spanish and Creole.
Archbishop Thomas Wenski will celebrate a Mass at 11:30 a.m. with praise and worship led by Father Pedro Corces and music provided by "The Call."
Registration fee of $35 includes breakfast and lunch. Register online at https://adomdevelopment.org/event/include-stewardship-day-and-ambassador-of-first-impression/.
For more information, contact Grace Veloz at 305-762-1064.
Documents
Location
Belen Jesuit Preparatory School
500 SW 127th Avenue, Miami, FL 33184 (Map)