Salesian Sisters virtual oratory for children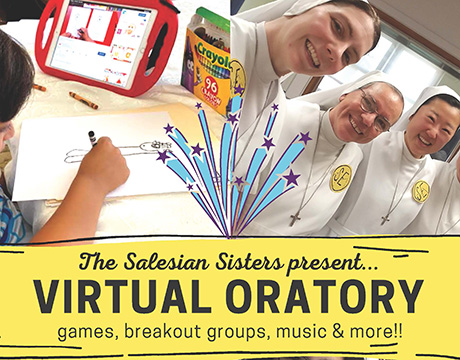 The Salesian Sisters of St. John Bosco offer a weekly virtual "playground" for children across the country.
"Run, jump, shout, but do not sin!" said St. John Bosco, patron saint of young people. With this in mind, the Salesian Sisters of St. John Bosco will be offering a "virtual oratory" every Saturday beginning September 19, 2020 from 2 to 4 p.m. for children ages six through 14.
This oratory will give young people around the country a chance to meet new friends, play games, pray together and engage in wholesome activities through Zoom, all with the accompaniment of the Sisters.
Registration is open and there is no cost to participate. Visit: www.salesiansisters.org/weekly-virtual-oratory to sign up or email: [email protected] for more information.

Show more >>
What is an "oratory"? The Salesian-style oratory first started by St. John Bosco in Italy has traditionally been a place where young people can come to play, pray and grow in their relationship with God and one another. Since many in-person programs are being postponed or modified, the Sisters are adapting the concept online.
Every Saturday, the afternoon will start with prayer, ice-breaker games, singing and an Oratory pledge. This will be followed by large group activities and small breakout groups, by age, that will include anything from movement to virtual field trips to trivia games.
The Sisters are building on the success they had in offering their first ever virtual summer camp. The reaction the Sisters received from parents was encouraging and pointed to a need for more programs to keep young people engaged in their faith during these uncertain times.
"We have been praying to see you again soon and we are very thankful to God that you will be running a virtual program again. The camp was so great that I am sure this will be another excellent experience for the kids!" said Maria Guerra, parent from Carmel, Indiana.
Founded in Italy in 1872 by St. John Bosco and St. Mary Mazzarello, the Salesian Sisters of St. John Bosco, also known as the Daughters of Mary Help of Christians, are an international institute of women religious who are committed to the evangelization of young people. Through ministries such as schools, summer camps, after school programs, religious education, and youth ministry, we seek to bring Christ to the young and the young to Christ.
Documents
Location
salesiansisterscamp.org
3601 South Miami Avenue, Miami, FL 33133 (Map)
Contact Information
Salesain Sisters