Our Lady of Loreto visits Miami
Next date: Dec 31, 1969 - click here for time schedule - Bilingual (English and Spanish)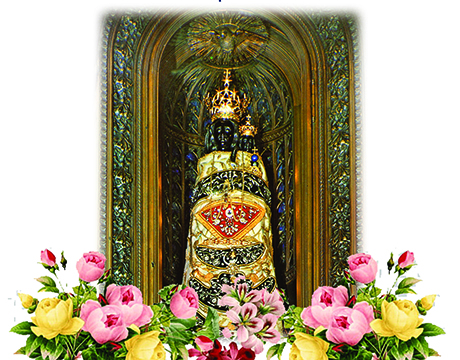 Father Giovanni Soccorso, the chaplain for the Fiumicino airport chapel in Rome and the delegate for the jubilee of Our Lady of Loreto, has informed the Archdiocese of Miami that the chaplain for the airport of Madrid, Father Urbano Monedero, is coming to Miami with the statue of Our Lady of Loreto on Monday, Feb. 17.
The plan is to welcome the statue with a Mass at the airport chapel shortly after his arrival. Mass will be celebrated at 5:30 p.m. in the airport's South Terminal Concourse J - 4th floor auditorium. This has been designated a place to gain plenary indulgence under the conditions listed below.
The statue of Our Lady of Loreto will then be brought to Blessed Trinity Church in Miami Springs, where it will remain on Tuesday, Feb. 18, with a Mass at 7:30 p.m. All are invited to attend both Masses.
Show more >>
From December 8, 2019 to December 10, 2020, the universal church is celebrating the Lauretan Jubilee in commemoration of the centenary of the proclamation of Our Lady of Loreto as the patroness of aviation. The church has granted a plenary indulgence to the Miami airport chapel during this year to those who fulfill the following requirements:
Be in the state of grace.
Have the interior disposition of complete detachment from sin, even venial sin.
Have sacramentally confessed their sins (20 days before or after having received Communion for this indulgence).
Receive the Holy Eucharist.
Pray for the intentions of the Supreme Pontiff.
Pray for the spread of our faith before a statue of the Blessed Virgin Mary concluding with an Our Father, the Creed, and a Hail Mary (or praying the Litany of Our Lady of Loreto).
Del 8 de diciembre, 2019 al 10 de diciembre, 2020, la iglesia universal celebra el Jubileo Lauretano en conmemoración del centenario de la proclamación de Nuestra Señora de Loreto como patrona de la aviación. La Iglesia ha dado la indulgencia plenaria a la capilla del aeropuerto durante este año a todos aquellos que cumplan con los siguientes requisitos:
Estar en estado de gracia.
Tener la disposición interior de desapego de todo pecado, incluso venial.
Haberse confesado (20 días antes o después de haber recibido la comunión con la intención de ganar la indulgencia).
Recibir la Eucaristía.
Orar por el Santo Padre.
Orar para que se difunda la fe ante una estatua de la Santísima Virgen María concluyendo con un Padre Nuestro, Credo, y un Ave María (o rezar las Letanías de la Virgen de Loreto).
From https://catholicsaints.info/our-lady-of-loreto/

The title Our Lady of Loreto refers to the Holy House of Loreto, the house in which Mary was born, and where the Annunciation occurred, and to an ancient statue of Our Lady which is found there.
Tradition says that a band of angels scooped up the little house from the Holy Land, and transported it first to Tersato, Dalmatia, in 1291, then Recanati, Italy, in 1294, and finally to Loreto, Italy, where it has been for centuries.
It was this flight that led to her patronage of people involved in aviation, and the long life of the house that has led to the patronage of builders, construction workers, etc. It is the first shrine of international renown dedicated to the Blessed Virgin, and has been known as a Marian center for centuries. 
Popes have always held the Shrine of Loreto in special esteem, and it is under their direct authority and protection.
Documents
Location
Blessed Trinity Church
and Miami Airport - South Terminal Concourse J - 4th floor auditorium 4020 Curtiss Parkway, Miami, FL 33166 (Map)
Contact Information
305-871-5780