Irish Tenor Emmet Cahill in Coral Springs
Monday, Mar 9, 2020 from 7:30 PM to 9:00 PM - English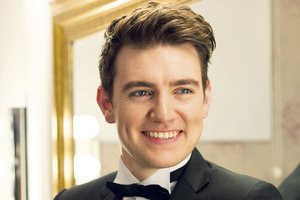 Emmet Cahill, widely regarded as "Ireland's most exciting young tenor" and star of PBS's Irish music phenomenon Celtic Thunder, returns to Coral Springs for a concert at St. Elizabeth Ann Seton Catholic Church on Monday, March 9 at 7:30 p.m.
The concert will include a blend of beloved hymns, traditional Irish songs, Broadway and movie favorites and more. Cahill will take audience requests during the popular "song request medley" part of the concert.
Tickets are $35 - $50 and may be purchased online at https://www.emmetcahill.com/tour-dates/ or at the church office.
Show more >>
In the five years that Cahill has toured as a solo artist, he's hit many milestones, including performing to a sold-out crowd at New York's Carnegie Hall. His debut orchestral album, "Emmet Cahill's Ireland" on the Sony Music USA label, went straight to number one on the Billboard World Music Album charts.
In 2017 Cahill had the honor of opening the New York City St. Patrick's Day Parade singing a tender rendition of "Danny Boy." Last year, on this most celebrated day for the Irish, Cahill was invited to sing at the famed St. Patrick's Cathedral in New York City.
You won't want to miss this unforgettable evening of songs and stories from the Emerald Isle!
Location
St. Elizabeth Ann Seton Church
1401 Coral Ridge Drive, Coral Springs, FL 33071 (Map)
Contact Information
Louise Ditto
954-753-3330