International Congress: Journeying with Pope Francis
Next date: Dec 31, 1969 - click here for time schedule - Bilingual (English and Spanish)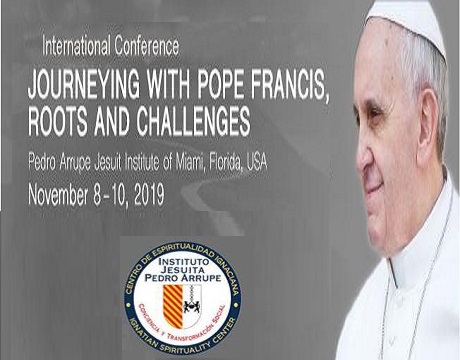 Journeying with Pope Francis: Roots and Challenges
The Pedro Arrupe Jesuit Institute invites the community to an international and bilingual congress on Pope Francis, which will have the participation of important theologians and historians of organizations and universities of different countries.
Since his election to the See of Peter on March 13, 2013, Pope Francis' pontificate has been defined by a strong, unwavering magisterium clearly oriented to the reform of the Church, the Christian life and social justice, goals centered upon his own exegesis and appropriation of the Second Vatican Council, and inspired and defined by his Ignatian spirituality. The attempt to understand the rich and multiple facets of Francis' teaching requires us to journey with pope Bergoglio from his origins and wellspring to the present. This perspective is expressed in the title of our Congress: "Journeying with Pope Francis: Roots and Challenges."
The objective of this Congress is to reflect, discuss and diffuse the bold and prophetic magisterium of renewal, reform and social justice that defines Pope Francis pontificate, in all its multiple, complex and subversive aspects.
Welcome Mass: Rev. Thomas Wenski, Archbishop of Miami.
Speakers
Ana María Bidegaín, Florida International University
Massimo Faggioli, Villanova University
Sixto García, Pedro Arrupe Jesuit Institute
Antonio García-Crews, Pedro Arrupe Jesuit Institute
Rodrigo Guerra, Advanced Social Research Center
Antonio Lopez, St. Vincent de Paul Regional Seminary
Rafael Luciani, Boston College, U. Católica Andrés Bello
Thomas Massaro SJ, Fordham University
Joaquín Pérez, Pedro Arrupe Jesuit Institute
Carlos Schickendantz, Universidad Alberto Hurtado
Antonio Spadaro SJ, La Civiltá Cattolica
Consuelo Vélez, Pontificia Universidad Javeriana
Topics:
The reception of the Vatican II Council
Ignatian spirituality and Pedro Arrupe SJ
Milestones in the Latin American Church
Towards a synodal Church
Globalization, migration and social justice
The new peripheries and evangelization
The role of women in the Church
Sexual abuses in the Church
Presentations may be in English or Spanish with simultaneous translation to the other language.
Information and Registration: 305-596-0001 or www.ijpa.us
Limited availability
A.M.D.G.
Location
Ignatian Spirituality Center
12190 SW 56 Street, Miami, FL 33175 (Map)
Contact Information
Margarita Romagosa
305-596-0001