Concierto contemplativo: Jésed
Wednesday, Nov 6, 2019 from 7:00 PM to 9:00 PM - Spanish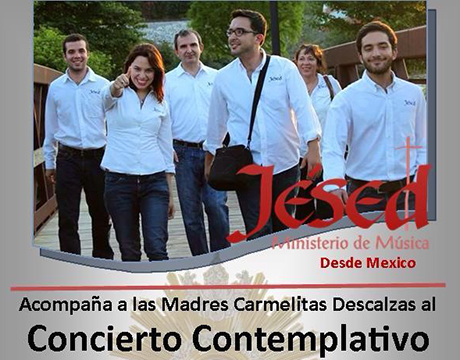 Las Madres Carmelitas Descalzas le invitan a disfrutar de un concierto contemplativo a beneficio de finalizar el Monasterio de la Santísima Trinidad en Homestead.
Artista invitado: el grupo Jésed, ministerio de música, que vendrá desde México.
Donación: $15
The Discalced Carmelites of Miami invite the community to a contemplative concert to benefit the completion of their new cloister, the Monastery of the Most Holy Trinity, in Homestead.
The concert features a performance by the group Jésed, a music ministry coming from Mexico.
Donation: $15
Documents
Location
Immaculate Conception Church
4497 West 1st Avenue, Hialeah, FL 33012 (Map)
Contact Information
Información para boletos | For ticket information
305-558-7122
305-244-0206