Festival Mariano Hispano
Oct 26, 2019 & Oct 27, 2019 - from 7:00 AM to 9:00 PM - Spanish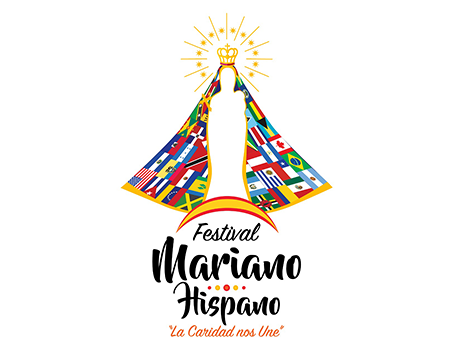 Mes de la Hispanidad y Festival Mariano Hispano 2019
"¿Acaso no estoy yo aquí que soy tu madre?"
Mis queridos hermanos y hermanas de la Arquidiócesis de Miami,
Como ya es tradición en nuestro santuario, en octubre estaremos celebrando una vez más el Mes de la Hispanidad, tiempo especial para compartir nuestra rica herencia común de lengua, cultura y fe a los pies de la virgen, María Santísima de la Caridad.
Cada día durante este mes estarán peregrinando al santuario hermanos de los diferentes países de Hispanoamérica para celebrar la Santa Eucaristía y compartir su cultura y tradiciones. Como clausura de este mes, tendremos el "Festival Mariano Hispano" del 24 al 27 de octubre, una gran celebración abierta a todos, donde se desarrollarán una serie de eventos nacidos de la misión evangelizadora propia de los santuarios marianos, como "lugar privilegiado donde expresar la bella tradición de oración, de devoción y de confianza en la misericordia de Dios inculturada en la vida de todos los pueblos".
"El Santuario se presentan como un lugar genuino de evangelización donde, desde el primer anuncio hasta la celebración de los sagrados misterios se manifiesta la acción poderosa con que actúa la misericordia de Dios en la vida de las personas."[ SS Francisco, Motu Proprio "Sanctuarium in Ecclesia", 1ro de abril del 2017].
Dentro de los eventos programados, se tendrán una serie de conferencias, talleres, testimonios, conciertos, presentaciones artísticas y otras actividades, sobre temas iluminados desde las diferentes espiritualidades de inspiración mariana que tenemos en nuestros pueblos, especialmente la de Nuestra Señora de Guadalupe, Emperatriz de América.
El festival contará con la coordinación y auspicio de María Visión, canal de televisión católico que desde su fundación ha mirado en María al igual que toda la Iglesia el modelo perfecto de evangelización, y deseando imitarlo, ha seguido las directrices trazadas por la Iglesia respondiendo a las metas de la nueva evangelización.
Los esperamos a todos para celebrar juntos nuestra herencia común a los pies de la Virgen, porque La Caridad Nos Une como una sola familia en Cristo.
Les bendigo en Jesús y María,
Padre Fernando Hería, Rector
Show more >>
Mes de la Hispanidad y Festival Mariano Hispano 2019
"Am I not here that I am your mother?"
My dear brothers and sisters,
As part of Shrine's tradition, in October we will be celebrating the Hispanic Heritage Month, a special time to share our rich common heritage of language, culture and faith at the feet of the virgin, the Most Holy Virgin of Charity.
Every day during this month, brothers and sisters from different countries of Latin America and the Caribbean will be pilgrimaging to the shrine to celebrate the Holy Eucharist and share their culture and traditions. At the end of this month, we'll have the "Festival Mariano Hispano" from October 24 to 27, a great celebration to the entire community of faithful of the Archdiocese of Miami. A series of events, born from the evangelizing mission of Marian shrines, will take place at La Ermita during this Festival Mariano Hispano. "The Shrine is presented as a genuine place of evangelization, where from the first proclamation up to the celebration of the sacred mysteries, the powerful action with which God's mercy works in people's lives is made manifest. [SS Francisco, Motu Proprio "Sanctuarium in Ecclesia," April 1, 2017].
Within the scheduled events, there will be a series of conferences, workshops, testimonials, concerts, artistic presentations and other activities, on topics illuminated from the different Marian-inspired spiritualities that we have in our countries, especially those arisen from the great and extended devotion existing towards Our Lady of Guadalupe, the Empress of America.
The festival will have the coordination and sponsorship of María Vision (Jesus Christ Network), a Catholic television channel that since its foundation has perceived in Mary the perfect model of Evangelization, and wishing to imitate it, has followed the guidelines set by the Church responding to the goals of the New Evangelization.
We wait for you all to celebrate together our common heritage at the feet of Our Lady of Charity, because charity unites us as one family in Christ.
I bless you in Jesus and Mary,
Father Fernando Heria, Rector
Location
Our Lady of Charity National Shrine
3609 South Miami Avenue, Miami, FL 33133 (Map)
Contact Information
Javier Fernandez
305-854-2404