Bloom Who You Are Retreat for Women - Lights Shining in the Darkness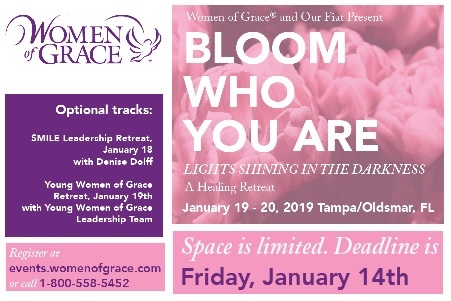 Catholic Women! Renew your faith and discover the gift you are to the world.
All Catholic Women in Florida are encouraged to attend! Women's groups from various parishes across Florida are traveling together to attend. Contact us if you would like to organize a group from your parish.

Enjoy a time of inspiration, healing, and encouragement retreat for women to come to a deeper understanding of their natural and supernatural gifts with speakers who have a particular heart for women and their role in the Church at this time.
Speakers:
Fr. Richard McAlear, OMI;
Johnnette Benkovic Williams;
Judy Landrieu Klein;
Carol Marquardt;
Susan Potvin;
Denise Dolff
There will be a special "Young Women of Grace" youth and "Smile" healing track.

Space is limited! Deadline to register is Friday, January 14th.
Show more >>
Women of Grace® and FIAT Present: Bloom Who You Are: Lights Shining in the Darkness
A Healing Retreat - January 19-20, 2019 in Tampa/Oldsmar, Florida.
The program includes: Mass, adoration, confession, talks, reflection time, a healing service, and individual ministry by prayer teams.
The retreat will begin with Mass at 9 a.m. ET Saturday and conclude by 8 p.m. ET with a healing prayer service. Sunday begins at 9 a.m. ET and will conclude by noon with a closing Mass.
Cost is $135 and includes lunch and dinner on Saturday, January 19th.
Rooms at the Hampton Inn and Suites are being held in name of "Bloom Who You Are Retreat" at the rate of $139/night for a room with two queen beds (includes breakfast). Reservations can be made at 813-818-7202. Deadline for rooms is January 3, 2019
Special Youth "Young Women of Grace" Track: (ages 14-25):  Young Women of Grace Retreat, Saturday, January 19th with Young Women of Grace Leadership Team 
Special "Smile" Training Track, January 18, 2019, 1 p.m. – 4 p.m. ET:Â  The Church needs the gift and charism of spiritual motherhood more than ever. We provide receptivity, encouragement and healing to those feeling lost or confused. We can storm the heavens in support of those who are hurting. Learn how to bring the gift of your spiritual maternity into your spheres of influence through evangelization, healing and encouragement during this half day workshop. Cost for this track is $30 and no meals are included.
Downloadable Flyer: https://www.womenofgrace.com/App_Uploads_Docs/Event%20PDFs/BloomFlyer_2019_07-final.pdf

Location
Hampton Inn and Suites - Tampa/Oldsmar, FL
Register: www.womenofgrace.com or call 1-800-558-5452. Hotel Reservation: 813-818-7202 4017 Tampa Road, Oldsmar, FL 34677 (Map)
Contact Information
Women of Grace - Host & Speaker, Johnnette Benkovic
1-800-558-5452