Back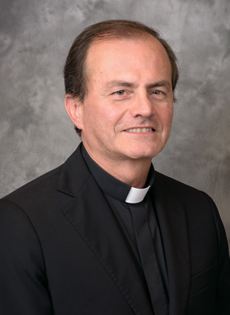 'Jet-set' producer
Father Oswaldo Agudelo, 54, comes to the priesthood after a jet-setting life as a public relations executive for Lufthansa, and later an Emmy-winning executive producer for Telemundo Internacional.
A native of El Carmen de Atrato in Colombia and the second of three siblings — his older brother will be ordained next year for the Diocese of Brooklyn — Father Agudelo studied art in Barcelona, Spain, and mass communications in his native Colombia. He is a certified expert on Old Masters paintings and even owned an art gallery in Coral Gables. He also is an expert on the conflict in the Middle East, a region he has visited countless times. He settled in Miami 21 years ago and began attending Little Flower Church in Coral Gables.
"I was a Catholic 'light'," he said. "I went to Mass because of the obligation." In the meantime, he lived a "very agitated social life," indulging a taste for nightlife, travel and luxury cars.
That changed in 2005, when Telemundo shut down its Miami-based, 24-hour news operation. He took a job with Univision in Sacramento, California, but the city bored him.
One morning, on his day off, he took a walk around the neighborhood and wound up in a Catholic cemetery. Sitting in one of the mausoleums, he told himself, "I'm going to pray an Our Father for each of these souls."
Suddenly, he felt a hand on his shoulder. It was the groundskeeper. The cemetery was closing. He had sat down to pray at 10 a.m. and it was 7 p.m. "But I liked it," he recalled, so he kept coming back and spending hours in prayer.
Within months he had quit his job, returned to Miami, and practically " locked myself up," praying for as many as 12 or 13 hours a day. He took the 2 to 3 a.m. adoration slot at St. Raymond Church in Miami, where his companion was often the pastor at the time, Father Jordi Rivero.
One night he got up the courage to ask: "Father, is it very hard to be a priest?" To which Father Rivero replied: "You're ready. Go to the vocations office."
"I've never in my whole life been happier than I am now," Father Agudelo said.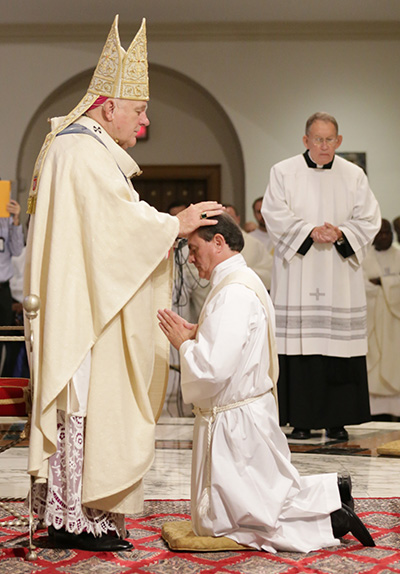 Photographer: TOM TRACY | FC
Archbishop Thomas Wenski lays hands on Oswaldo Agudelo, ordaining him to the archdiocesan priesthood.
And neither are his parents back in Colombia. When he told them he was entering the seminary, they confessed they had been praying two to three hours a day for him to leave his jet-set life behind.
"What everyone in the world considers success, they saw as taking me away from God," Father Agudelo said. "People say, 'What a life!' But it really was, 'What a fall!' I would not change any of it for what I'm doing now."
He has been assigned to Our Lady of the Lakes, Miami Lakes.
Watch his video interview here: