Couples for Christ: Friday Teaching Night
Friday, Jul 28, 2017 from 8:30 PM to 10:00 PM - English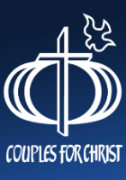 Couples for Christ (CFC): Families in the Holy Spirit renewing the face of the earth, invites the community to their Friday Teaching Nights, held the fourth Friday of each month from 7:30 to 10 p.m.
Moved by the Holy Spirit, one with the Catholic Church, blessed to witness to Christ's love and service, Couples for Christ is a united global community of family evangelizers that sets the world on fire with the fullness of God's transforming love.
CFC's global mission is to build the Church of the home and the Church of the poor.

Show more >>
We are Couples for Christ. We are committed to live in God's righteousness and holiness, evangelizing people through a life of love and service; we shall work for the renewal of families that will serve God and build generations of Christian leaders; and, we shall pursue Total Christian Liberation through social justice, respect for life, and work with the poor.
CFC Global goals:
Evangelization and formation

: To strategically locate in the world to evangelize peoples and inculcate a way of life based on Gospel values.

Family renewal

: To strengthen and defend the family as a basic unit of society and of the Church in accordance with God's plan.

Total Christian liberation

(justice, life, and the poor): To help the least of our brethren based on Matthew 25:40, "Amen, I say to you, whatever you did for one of these least brothers of mine, you did for me."

Effective / efficient governance

: To provide effective and efficient support services to fulfill the vision and mission of CFC.
Location
Good Shepherd Church
14187 SW 72nd Street, Miami, FL 33183 (Map)