Friday, November 13, 2009
Ana Rodriguez Soto
- Florida Catholic newspaper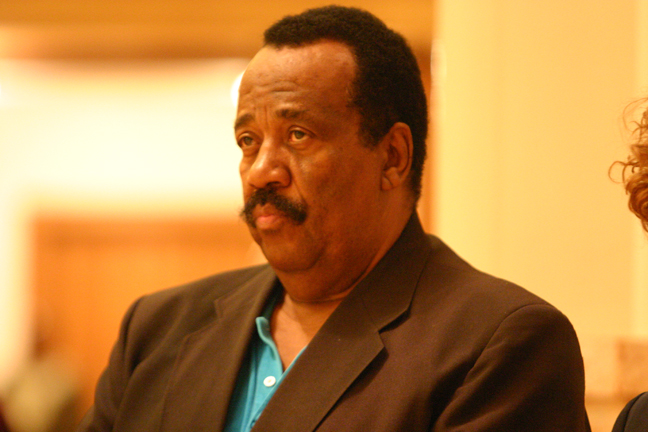 ANA RODRIGUEZ-SOTO | FC
Prince Smith, head of the census implementation team, prays during the Nov. 3 Mass at St. Mary Cathedral where the results of the black Catholic census were announced.
MIAMI — Nearly two years and countless volunteer hours later, black Catholics have been counted — and the Archdiocese of Miami has a clearer picture of who they are and what they need from the Church.
During a Mass Nov. 3 at St. Mary Cathedral, Archbishop John C. Favalora received an official copy of the Black Catholics Survey Report 2008-2009. Nov. 3 is the feast day of St. Martin de Porres, patron of black Catholics in the United States.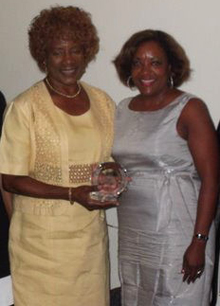 COURTESY PHOTO
Maria Jerkins, left, director of the archdiocesan Office of Black Catholic Affairs, receives the President's Evangelization Award in recognition of the successful completion of the black Catholic census in the Archdiocese of Miami. Kathleen Merritt presented the award during the annual meeting of the National Association of Black Catholics Administrators, held in the Archdiocese of Atlanta.
The report was presented by Maria Jerkins, director of the archdiocese's Office of Black Catholic Affairs, and Prince Smith, a member of Visitation Parish in North Miami who chaired the census implementation team.
"We have always asked how many black Catholics are there and we could never give a number, only an estimate," said Jerkins.
Now there is a number. As of March 30 of this year, 11,596 people who self-identify as black Catholics are registered in parishes and missions of the archdiocese. Another 5,690 were seen at Masses but did not complete the survey, with the highest percentage of those residing in Broward County.
The figures are accurate to plus or minus three percentage points said Smith, a retired psychiatry professor at the University of Miami.
"We didn't have a way to verify that they were actually registered. We had to take their word for it," he said.
One surprising finding, Smith said: Many of those surveyed "couldn't tell whether they had been baptized, confirmed or received the sacraments. They were taking holy Communion but didn't remember their first holy Communion."
He speculated that some of that may be for cultural reasons. In African and Caribbean countries where priests are scarce and parishes are scattered, baptisms take place only once a year, often at Easter, at which time all the babies present are baptized.
"They just went to the nearest church and the baptisms were seasonal," Smith explained.
Census takers also met black people who were born in countries such as Wales and Holland and felt no connection to the African-American experience.
"There were a number of people who were dark-skinned but they didn't self-identify as African American," Smith said.
He also found it interesting that the percentage of those who said they were divorced was highest among Haitians — 35 percent.
"It's mainly females," Smith said. "We thought it had something to do with immigration."
The census results are based on a one-page questionnaire distributed in 103 of the archdiocese's 118 parishes and missions between January and August 2008 (before the recent merger of 14 parishes and missions).
"We went to every parish," Jerkins said, except for five whose pastors did not give permission for the census takers to be there during weekend Masses.
According to the census report, all of those pastors responded that "there were no black Catholics in their parish," even though, in at least one case, two of the census team members have family who are registered in that particular parish and have been attending Mass there for more than three years.
"I was surprised at the number of pastors who would not cooperate with us," Jerkins said. "We found several who did not want us to come. (The census) was not as important to them as it was to us."
Nevertheless, Jerkins added, "We as black Catholics know that we're not alone because we got the support of our fellow Catholics."
She noted that the census team was composed of 43 African American Catholics and 21 white or Hispanic Catholics.
Archbishop Favalora said the purpose of the census was "not just to take numbers but it's a means of evangelization in the archdiocese. I'm sure the priests in the parishes will find this very useful."
"Now that we have the data it has to be thrust into evangelization," said Auxiliary Bishop Felipe Estevez, who concelebrated the Nov. 3 Mass along with several pastors of predominantly black Catholic parishes. "It is at the local level, the parishes, where this implementation needs to take place, so that it doesn't become something for a file, it becomes an incentive to reach out."
Asked about those who worship in Catholic churches, and even receive Communion without remembering if they have received the sacraments, Bishop Estevez said, "There is a huge lack of catechesis" among Catholics of all colors and ethnic backgrounds.
"Thank goodness they identify with the faith," he said. "We don't look down upon them but we're aware that there is a great need (for catechesis)."
To read some of the key results of the 2008- 2009 Black Catholics Survey Report
Click here
.