Message from Fr. Jean Jadotte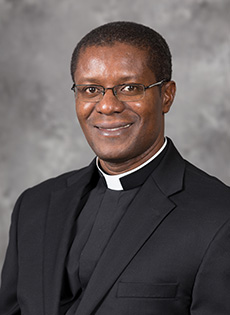 "I am the Resurrection and the Life"
This Sunday's gospel invites us to reflect on the mystery of the resurrection. At the heart of Jesus' mission is the glory of his Father, that is the revelation of the mystery of God. When Jesus heard about the illness of Lazarus, he said: "this illness is not to end in death, but is for the glory of God, that the Son of God may be glorified through it." The resurrection of Lazarus is only a reanimation of a dead body (cadaver); it is not a true resurrection. There is only one true resurrection, that of Jesus Christ.
In today's gospel, Jesus brought Lazarus back to life to show that the Son of God has the power over death and to reveal the compassion and the tenderness of God toward us in our time of suffering. "When Martha heard that Jesus was coming, she went to meet him; she said to Jesus, Lord if you have been here my brother would not have died. But even now I know that whatever you ask of God, God will give you." By saying that, Martha expressed her faith in Jesus as someone close to God. Jesus went further in strengthening her faith by revealing that He is the resurrection and the life and whoever believes in him will never die. And Martha concluded with an even stronger testimony of faith by saying: "Yes, Lord, I have come to believe that you are the Christ, the Son of God, the one who is coming into the world."
Although Lazarus was already in the tomb for four days, Jesus raised his eyes and said, "Father, I thank you for hearing me. I know that you always hear me; but because of the crowd here I have said this, that they may believe that you sent me." He prayed and commanded, with a loud voice, the dead man to come out and gave order to untie him and let him go. Jesus is the Son of God, who came to free us from the power death, the chains of sins that prevent us from being free to live as children of God. If we believe we will see the glory of God manifested in daily life through Jesus Christ who is the resurrection and the life.
Have a blessed weekend!
Fr. Jean Jadotte
Pastor