Treasures of the Church: 150 Relics
Friday, May 20, 2022 from 6:30 PM to 9:30 PM - English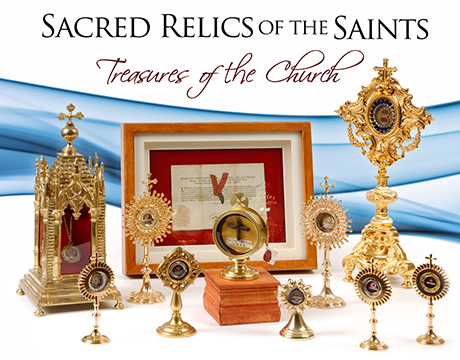 A catechetical and spiritual presentation on relics, Treasures of the Church, will be the prelude to an opportunity to venerate 150 relics contained in a traveling Vatican exposition to be held at St. Gregory Parish in Plantation on Friday, May 20, beginning at 6:30 p.m. in the church.
The display will include, among many others, relics of St. Joseph, St. Maria Goretti, St. Therese of Lisieux (the Little Flower), St. Francis of Assisi, St. Anthony of Padua, St. Thomas Aquinas, St. Faustina Kawolaska, and Blessed Carlo Acutis.
The supreme highlight is one of the largest certified relics of the True Cross in the world, and a piece of the Veil of Our Lady.
More information can be found at www.treasuresofthechurch.com.
A formal announcement and brochure regarding this exclusive event can be found on the St. Gregory website: www.church.saintgreg.org.

Documents
Location
St. Gregory Church
Parish Hall 200 North University Drive, Plantation, FL 33324 (Map)
Contact Information
Father Davis
954-473-6261