In Creole: COVID-19 Vaccines: Myths and Realities
Tuesday, Apr 13, 2021 at 7:00 PM - Creole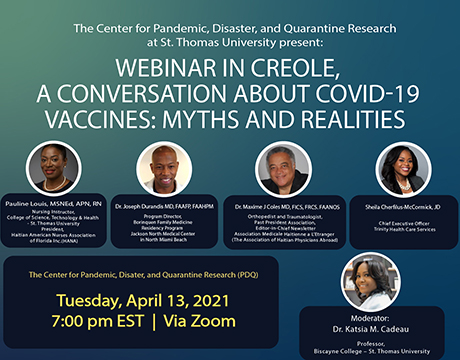 St. Thomas University's Center for Pandemic, Disaster and Quarantine Research will be offering a webinar in Creole: "A conversation about Covid-19 Vaccines: Myths and Realities," on Tuesday, April 13, at 7 p.m.
This live webinar event is free, and done through Zoom.US. It is open to all Creole-speaking communities in Miami-Dade, South Florida, the State of Florida, and elsewhere in the country and in Haiti. For other interested communities, there will be simultaneous translation in English).
To attend, register at: https://www.stu.edu/pdqevent/ Please find attached to this message, a promotional flyer for this event.
Documents
Location
St. Thomas University
Via Zoom - free - with English translations 16401 NW 37 Ave, Miami Gardens, FL 33054 (Map)
Contact Information