The Community of St. John Paul II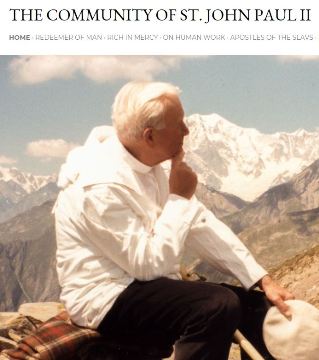 The Community of St. John Paul II invites you to our new prayer and study group inspired by the life, spirituality and writings of St. John Paul II.
Our Mission: To deepen our Catholic faith, to respect and defend the sacredness of life, to live the fullness of the Gospel message, to promote the new evangelization and grow in greater love of God and neighbor as taught and exemplified by Pope St. John Paul II.
As St. John Paul II repeatedly said, "Be not afraid! Open wide the doors to Christ", we seek to open the doors to Christ of the new evangelization in all the dimensions of human life: family, marriage, work, social, cultural, artistic, intellectual, historical... all in and for Christ.
Please join us every 1st & 3rd Tuesday of the month, at Good Shepherd Catholic Church, at 8 p.m.
Additional projects: Rosary for Life: "Life is a gift, not a choice!"
Show more >>
We are exited to explore and study the rich intellectual and spiritual legacy of St. John Paul II and the Catholic Church.  Many of the writings we are aiming to prayerfully study and live include: 
Redemptor hominis, Laborem exercens, Redemptoris mater, Veritatis spendor Evangelium vitae, Fide et ratio, Ecclesia de Euchristia, Familiaris Consortio, Rosarium Virginis Mariae, Dies domini, and the many letters of St. John Paul II to women, artists, children, families, scientists, and others. 
We will also examine and study many key Church documents such as:
Humanae Vitae, Gaudium et Spes, Dominus Iesus, Rerum Novarum, Providentissimus Deus, Pascendi Dominici Gregis, Pacem in Terris, Casti Connubii, Aeterni Patris, and others.
 We wish to realize the Holy Father's words:
"Make time for study, meditation, and reflection. Use your intelligence well; make an effort to reach correct convictions; do not waste time; deepen the motives and foundations of faith in Christ and in the Church, so as to be firm now and in your future.  —John Paul II, from Go in Peace
Please join us for a rich intellectual and spiritual journey guided by Pope St. John Paul II, the Great! 
Location
Good Shepherd Church
Parish Hall 14187 SW 72nd Street, Miami, FL 33183 (Map)
Contact Information
Silvia Espinosa Schrock
305-772-4951