Couples for Christ Christian Life Program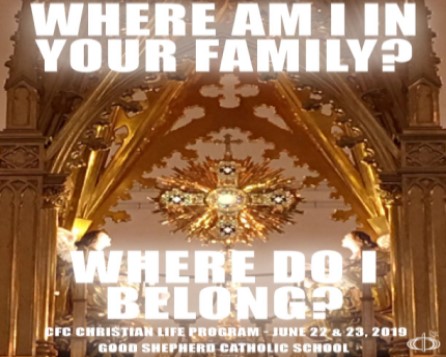 Couples for Christ (CFC) is a Catholic movement intended for the renewal and strengthening of Christian family life. CFC couples have committed themselves to the Lord and to one another so that they may grow in maturity as men and women of God and fulfill their primary vocation of raising families grounded in Christian values, in the service and love of God.
Why such a ministry?
CFC wants to rise in defense of the family, which is God's work. CFC wants to bring God's strength and light to those who are struggling to be truly Christian families in the modern world.
Who can join Couples for Christ?
Any validly married Catholic couple can become members of CFC. Although a Catholic movement/organization, CFC remains open to having non-Catholic Christians as members.
How do I become a member of CFC?
Those who want to join CFC will have to go through a Christian Life Program (CLP).
Show more >>
What is Christian Life Program?
The Christian Life Program or CLP is an integrated course intended to lead the couple into a renewed understanding of God's call to them as Christians. It runs for a total of 13 separate sessions, held once a week. At the end of the seminar, couple-participants are invited to dedicate themselves to the Lord as CFC members and to commit to participate actively in the life of the community and of the Church through regular prayer meetings, attendance in community assemblies and teachings, participation in parish life.
FAMILIES IN THE HOLY SPIRIT RENEWING THE FACE OF THE EARTH
Moved by the Holy Spirit, one with the Catholic Church, blessed to witness to Christ's love and service, Couples for Christ is a united global community of family evangelizers that sets the world on fire with the fullness of God's transforming love.
Driven by its Vision, Couples for Christ has grown into a Global Family composed of CFC as the Head and the Family Ministries its children.
CFC as the parents nurture and form the Family Ministries and ensure a future full of hope where the fullness of life in Christ will be enjoyed by God's people through its global work of evangelization.
Location
Good Shepherd School
Good Shepherd Catholic School 14187 SW 72nd Street, Miami, FL 33183 (Map)
Contact Information
Lani Caingles
305-439-2801