Feast Day of Our Lady of Lourdes / Fiesta de Nuestra Señora de Lourdes
Monday, Feb 11, 2019 at 6:00 PM - Bilingual (English and Spanish)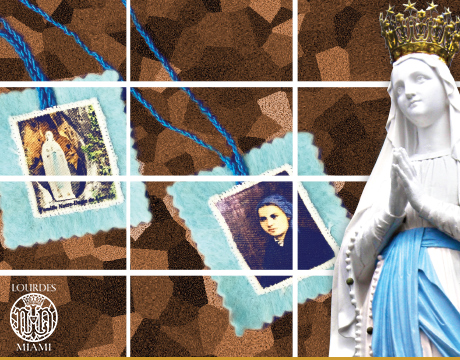 Feast Day of Our Lady of Lourdes and healing Mass with anointing of the sick.

Monday, February 11 at 6 p.m. in the main church.

If you need special assistance for the Mass, please call the office to let us know in advance.

Following healing Mass above we will have the Lourdes Candlelight Procession to Grotto.

Candles with wind shields for the procession can be purchased in advance at our Holy Boutique.

Fiesta de Nuestra Señora de Lourdes y Misa de Sanación con Unción de los Enfermos.

Lunes, 11 de febrero a las 6 p.m. en la iglesia principal.

Si usted necesita asistencia especial para la Misa, por favor llame a la oficina para dejarnos saber por anticipado.

Siguiendo la Misa de Sanacion tendremos la Procesion de Lourdes hacia la Gruta con Velas

Velas con parabrisas pueden ser adquiridos con antelación en nuestra Tienda Religiosa.

Location
Our Lady of Lourdes Church
Main church 11291 SW 142nd Avenue, Miami, FL 33186 (Map)
Contact Information
Main Office
305-386-4121