Monday, January 14, 2019
Isabel Rennella
- Little Flower Church (Coral Gables)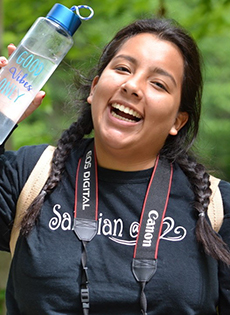 Hi, I'm Isabel Rennella, 19, and this January I will be attending World Youth Day in Panama.
World Youth Day is an international event for Catholic youth all around the world. Back in 2016, I was blessed to attend for the first time in Krakow, Poland. I first learned about WYD when I was in the 5th grade through my religion teacher and I knew since then that I would attend someday. As fate would have it, she also went on the WYD Krakow pilgrimage with us, which was awesome!
I'm blessed again to be able to go to WYD for a second time this January. The first time around, though I had the trip itinerary and knew a little bit about what to expect, I was still surprised by how powerful an experience it really was. It became a pivotal moment in my own journey of faith and I really learned to trust God and put my entire life in His hands. I was so moved and inspired by the whole experience that I even signed up as a volunteer catechist at my parish, the Church of the Little Flower, so I could continue to share my faith with my peers and friends.
This time around, I'm also going with my mom, which is really exciting. I'm most looking forward to meeting my fellow pilgrims, not just from our archdiocesan group but also from around the world, and I want to make a serious effort to really connect with them and create some more lifetime friends and memories. I am especially grateful to Father Michael Davis, our pastor, for approving our World Youth Day trip again and to the many, many parishioners who have helped sponsor our trip.
Please continue to keep us in your prayers!
Izzy Rennella wrote this for the parish bulletin of Little Flower Church in Coral Gables. She has promised to send updates about her experiences at World Youth Day in Panama.