Monday, May 9, 2022
Fr. Matthew Gomez
- The Archdiocese of Miami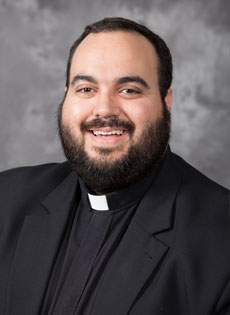 About a year ago, I heard a podcast where a Formula One driver spoke about a Netflix docuseries called "Drive to Survive." This series gave the F1 sport a big following, especially in the United States. I was obviously intrigued when I found out that Miami would be hosting one of the 22 Grand Prix races, May 8, 2022. I quickly learned of the magnitude of the sport: Each of the 10 racing teams has to transport their entire garage, car, and personnel to the new city every week.
The more I learn about the sport, the more I see the similarities between the teams and the men who are discerning the priesthood. Each team consists of over 800 people: the team principals, the publicists, the mechanics, the engineers, the drivers but also the scientists, engineers and mechanics, in their respective factories back home, who make the necessary changes so that the car can be competitive week in and week out. This puts a new meaning on the African proverb, "It takes a village to raise a child."
The men ordained priests this past weekend, didn't become priests overnight. They come from families, communities, friends, parishes, schools like everyone else, and they answered the call that God had for their lives. It takes a lot of work, prayer, discernment to make it to the cathedral on the Saturday before Mother's Day to enter into the priesthood of Jesus Christ.
The families, the friends, the formators are all part of the team that brings the man to ordination day. But their work does not end there. The same way that the mechanics, engineers, and scientists work to better the car every week, so too will these newly ordained priests work daily to better themselves. With their families, their friends, and their parishioners they will learn to be priests, they will tweak their homilies week in and week out, they will continue to work to be "competitive in the race" — a race where the champion does not get a shower of champagne, like in F1, but an imperishable crown. (2 Tim. 4:6-8)
We too can be a part of the team for these newly ordained priests (and every priest). Let us support them with kind words. Let us challenge them with charity. Let us hold them near to our hearts in prayer. Every priest comes from a family, and each one of us can be a part of the village that helps raise up a priest.
Let us give thanks to God that He continues to call men to serve at the altar, and let us be open to how God is using us to be a part of the team, to share in the joy of victory, the victory that comes from Jesus Christ Himself.